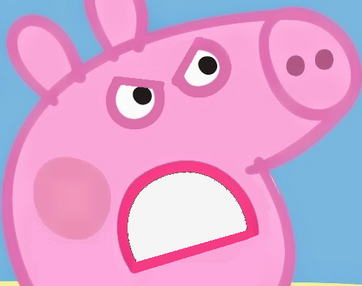 Heropig and Garrett Ghost
I felt like Garrett deserved a personality, so here it is XD
tpircsnart
Heropig: ~flying in circles~ la la la la. nothing to do. PPPPPPP
Emily elephant: AHHH! IT'S HEROPIG! EVERYONE RUN!!
~everyone runs~
Heropig: ha XD
Garrett ghost: ugh. he scares people without trying and i'm ignored like i'm nothing.
Heropig: what? who said that?
Garrett: what? WHO HEARD ME?
Heropig: who's talking?
Garrett: ~runs back and forth~ OH GOD OH GOD OH GOD
Heropig:....dude, chill
Garrett: NNNNNNNNNNNNOOOOOOOOOOOOOOOOPE
Heropig: ~throws fire~ DUDE. CHILL
Garrett: fine
Heropig: so. who the kcuf are you.
Garrett: <----as it says, i'm Garrett. Garrett Ghost
Heropig: cool. i'm Hero--
Garrett: it's fine. i know who you are
Heropig: THAT'S creepy
Garret:......I KNOW O-O
Peppa: ~skipping~ lalala- IT'S HEROPIG OH JESUS ~runs away~
Heropig: didn't even try XD
Garrett: ~gasps~ teach me your ways, o great one!
Heropig: ~gives him a match~ here. go burn peppa's house down.
Garrett: AWWW YEE ~runs away~
10 minutes later, peppa's house is burning
Peppa: ~runs out~ help! Pedro lit my house on fire!
Garrett: what? no. i'm Garre--
Peppa: PEDRO! WHY WOULD YOU DO THIS?
Garrett: but not pedr--
Peppa: i know i've rejected you thousands of times, but JEEZ
Garrett: W--WE'RE TWO DIFFERENT PEOPLE
Peppa: no you're not. BECAUSE YOU'RE PEDRO
Garrett: WTF
the end
Ad blocker interference detected!
Wikia is a free-to-use site that makes money from advertising. We have a modified experience for viewers using ad blockers

Wikia is not accessible if you've made further modifications. Remove the custom ad blocker rule(s) and the page will load as expected.