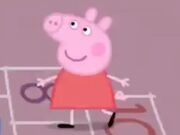 Summary
Peppa finds 20 kilos of acid and has a good idea what to use it for.
Transcript
Peppa: (Skipping happily) Oof! I ran into plastic barrels! But what's in them? (lifts lid of a kilo) It's acid! But what should I do with it? (runs home with the cilos)
Peppa: Mummy! Mummy! Huh? (sees a shotgun) I wonder what would happen I put acid in the gun? (Runs over to Suzy Sheep's home) Suzy!
Suzy: Yes Peppa?
Peppa: I found 20 giant cans of acid!
Suzy: That could get a be sold for about £10000! Let's sell them!
Peppa: I wasn't gonna sell a liftime's worth of acid for a ton of money! I was gonna put it in this shotgun!
Suzy: Acid guns? Can I have a kilo of acid?
Peppa: Take 2!
Suzy: Thanks!
Peppa: (Runs home)
Mummy Pig: Peppa! Where have you been and what are you doing with that shotgun and why does it smell like poison?
Peppa: I found 20 plastic barrels of acid! Who needs bullets when acid is way better!
Daddy Pig: Very clever!
Mummy Pig: Yes!
George: Acid! (Tries to touch it)
Peppa: No George acid is dangerous!
Peppa: I'm going over to Rebbeca's home to show her the acid! I'm taking 3 cans of acid with me!
Mummy Pig: Bye Peppa take the gun with you so if you get robbed you can poison the robber!
Peppa: Hi Rebbeca! 
Rebbeca: Hi! Why do you have 3 giant cans of acid?
Peppa: I'm going to replace all bullets in guns with acid!
Rebbeca: Wow! Let's play with them and shoot apple trees!
Richard: Acid
Rebbeca: No Richard you stay here!
Peppa: There is and apple Tree there!
Rebbeca: Fire!
Both: (Starts shooting at the Tree)
Peppa: Now we can have loads of apples!
Rebbeca: Yay!
(Back at Peppa's home)
Rebbeca: Let's call over Suzy Sheep, Danny Dog, Freddy Fox,Wendy Wolf, Candy Cat, Emily Elepant, Pedro Pony, Your couisn Chloe, Zoe Zebra and others!
Peppa:Yes!
(Everyone arrives at Peppa's house)
Chloe: What's the big thing Peppa?
Peppa: Uh... Where's Suzy Sheep?
Freddy: Uh... lets just say she will be back soon... from a plane...
Peppa: Okaayy
Freddy: I know what the big thing is!
Peppa: Well the others will know now! Follow me!
All but Freddy, Rebbeca, George, Mummy and Daddy Pig and Peppa: Wow!
Zoe: There are 14 plastic barrels of acid here!
Peppa: Yes, there were once 20, but the best thing is the guns!
Pedro: Why?
Rebbeca: Cause they have acid in them!
Zoe and some others: Wow!
Suzy: Hi! Don't ask about the veil!
Chloe: But what about it?
Suzy: Uh, let's just say I went to Arabia with Peppa's acid guns.
Peppa: Ok.
Narrator: Peppa loves playing with acid guns, everyone loves playing with acid guns!
Trivia
When Suzy said "Let's just say I went to Arabia," she maent she was in Arabia shooting Bandits with the acid guns.
If you try putting acid in the real shotgun, it will corrode it.
If you try putting acid in a non-corrosive shotgun, it won't fire.
Acid guns are completely different from acid-filled shotguns.
Acid will not poison people, proving Mummy Pig is a retard.
Ad blocker interference detected!
Wikia is a free-to-use site that makes money from advertising. We have a modified experience for viewers using ad blockers

Wikia is not accessible if you've made further modifications. Remove the custom ad blocker rule(s) and the page will load as expected.