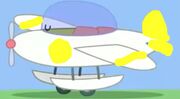 Plot
George loves aeroplanes and has lots of toys of them. Today, it was the day of the air show and he was going to it with Richard, Edmond and Peppa. Mummy Pig drove the quartet to the city airport and bought four child tickets and one adult ticket. The green and white plane, the purple and white plane, the blue and white plane and the yellow and white plane all took off and did aerobatics such as looping the loop and flying upside down. Then, they landed with a wheelie. Peppa was surprised to see Bertram Bliter and Brianna Cutie there too. Bertram explained that it was because he was a plane fan too. Then, a fighter jet came thundering in. Bertram said, "KaPow! Super cool!". Everyone waved, especially George, as it was his first time seeing a fighter jet. A jetliner landed, which Edmond specified as a Boeing 737 (which was true). Then, another jetliner landed, which Edmond specified as an Airbus A320 (which was also true) Then, the day ended and George fell asleep in the car, dreaming of what happened.
To be continued in Air Show 2.............
Trivia
Ad blocker interference detected!
Wikia is a free-to-use site that makes money from advertising. We have a modified experience for viewers using ad blockers

Wikia is not accessible if you've made further modifications. Remove the custom ad blocker rule(s) and the page will load as expected.