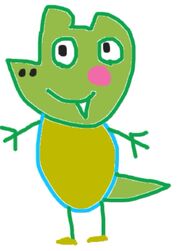 Alex is a fanon character. 
Alex is an alligator boy with a golden shirt, golden shoes and he is light green. His birthday is the 13th of December. His love intrest is Nobody. He is also one of Peppa's older friends, and he is a hero. He is 13 years old.  
Ad blocker interference detected!
Wikia is a free-to-use site that makes money from advertising. We have a modified experience for viewers using ad blockers

Wikia is not accessible if you've made further modifications. Remove the custom ad blocker rule(s) and the page will load as expected.