IT'S HERE! IT'S FINALLY HERE!!!! ASDFPEPPA2!!!!!!!!!!!!!!!!
ASDFPEPPA2
Mummy Pig: I baked you a pie!
Peppa: Oh boy what flavour?
Mummy Pig: Pie flavour!
[Small pie pops out of the pie]
Trains
Suzy Sheep: I like singing!
Emily Elephant: I like dancing!
Rebecca Rabbit: I like trains!
[Rebecca gets hit by a train]
Gullible
Danny Dog: Hey it says 'gullible' on the ceiling!
Peppa: [Looks up] Oh so it does! Aw you stole my lungs :(
Suzy tries to drive
Mrs Sheep: Haha! They said I could never teach a sheep to drive!
Suzy Sheep: [Tries to steer car] AHHHHHHHH!!!!!
Mrs Sheep: No suzy NOOOOOOO!!!!
[Suzy drives car off a cliff]
Rainbows
Peppa: Doctor Brown Bear I think I'm retarded!
Dr Brown Bear: How can tell?
Peppa: [Vomits rainbows]
Man or mouse
Madame Gazelle: WHAT ARE YOU? A MAN OR A MOUSE?!
Pedro Pony: [Stands awkwardly]
Return of the trains
Mummy Pig: Hey kids I brought you some pancakes!
Peppa+George: PANCAKES PANCAKES YAYYYYY!!!!!!
Rebecca Rabbit: I like trains!
[Peppa and George curiously look at Rebecca, who gets hit by a train]
TV show
TV: BROWN BEAR THE DOCTOR
Dr brown bear: Why am I a doctor?
TV: THE END
Illiteracy
Peppa: Haha! I can't read!
Fight
Danny Dog: KITTEN FIGHT!
Candy Cat: Now wait a... [Gets hit by kitten]
Rest in peace Candy Cat.
Last stand of the trains
Mr Rabbit: What are you up to Rebecca?
Rebecca: I like trains!
Mr Rabbit: Hahaha! Yes you do!
You're stupid
Danny Dog: Hey! You know who's stupid! You.. [Gets hit by train]
Bagel
Peppa: I can't wait to eat this bagel!
Daddy Pig: Yes you can
Peppa: SHUT UP FOOL! [Eats bagel]
Previous: Asdfpeppa
Next:
Asdfpeppa3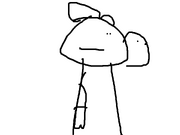 Ad blocker interference detected!
Wikia is a free-to-use site that makes money from advertising. We have a modified experience for viewers using ad blockers

Wikia is not accessible if you've made further modifications. Remove the custom ad blocker rule(s) and the page will load as expected.