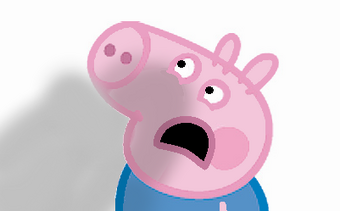 this might be George and Richard IIV if i make this longer. all i know is, it's kind of stupid
i thought i was done with this
george and richard are walking on an unkown planet, but then they stop at some very tall trees.
Richard: here we are, george. we walked for 8 years, but we made it, george!
George: ~sleeping on the ground~
Richard: drama queen. ~kicks george awake~
George: wwwhat do you want!?
Richard: WE'RE HERE, BITCH
George: what are we doing here again?
Richard: these, george, are the lanA trees, and their leaves can give you any power you want if you shove them up your ears
George: what the fu--
richard: i know. it's weird, but isn't everything?
George: good point.
Richard: yea.
George: sooo.. can i have some?
Richard: sure ~gives george some lana leaves~ just don't use them until we get back or else-
George: ~shoves the leaves in his ear and his head explodes~
back at peppa's
George: ~walks in with a bag full of leaves~ i'm back!
Mummy pig: how was the playgroup?
George: it was cool :)
Mummy pig: what's in the bag?
George: iiit's nothing.
Daddy pig: ~takes the bag~ come on it can't be that ba-- ~opens the bag~ are these drugs!?
George: what? no!
Daddy pig: HONEY! OUR SON'S DOING DRUGS
Mummy pig: nooo! ~cries~ he's only 3! ~runs away~
George: shut up.
Peppa: oooooh. anger is a side effect of an ADDICTION
George: FUCKYOU
upstairs
George: alright, let's do this. ~shoves the leaves in his ears~ i wanna grow wings.
sadly enough, george was thinking about bananas and turned into a banana.
George: FFFFFUCK
the end
Ad blocker interference detected!
Wikia is a free-to-use site that makes money from advertising. We have a modified experience for viewers using ad blockers

Wikia is not accessible if you've made further modifications. Remove the custom ad blocker rule(s) and the page will load as expected.