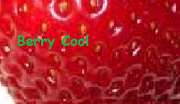 Title Card: Berry Cool!
Peppa:Berries everywhere!
George: *picks up berry* Berry!
Peppa: I like blueberries and raspberries. *blows raspberry*
George: Rap!
Peppa: *rapping* Don't be so blueberry!
Drink from a strawberry,
blow up a raspberry!
Turn the smoke blackberry!
Find a gem, cherry it.
Face is turning redcurrant.
C'lingonberry a vine!
Avocados are berries!
Respect your elderberries!
Pumpkins are also berries!

George: Wtf?
[end]