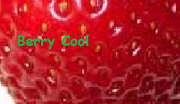 Title Card: Berry Cool!
Peppa:Berries everywhere!
George: *picks up berry* Berry!
Peppa: I like blueberries and raspberries. *blows raspberry*
George: Rap!
Peppa: *rapping* Don't be so blueberry!
Drink from a strawberry,
blow a raspberry!
Turn the smoke blackberry!
Find a gem, cherry it.
Face is turning redcurrant.
C'lingonberry a vine!
Avocados are berries!
Respect your elderberries!
Pumpkins are also berries!

Berry (x12)
BERRY!
Peppa: That's what I'm talkin' bout!
George: Yeah!
Ad blocker interference detected!
Wikia is a free-to-use site that makes money from advertising. We have a modified experience for viewers using ad blockers

Wikia is not accessible if you've made further modifications. Remove the custom ad blocker rule(s) and the page will load as expected.