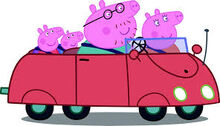 Bert is Mummy, Daddy, Peppa and George Pig's second car and is also based on a 2002 Volkswagen Punch Buggy (or Beetle or Slug Bug). He is also a convertible and has 3 doors and an ariel on the bonnet just like Skids, his twin.
When Skids breaks down, Mummy Pig and Daddy Pig take Bert instead. When Bert breaks down, they take Skids instead, but got dead. Instead, they got a new yellow car called Andrew, same as Granny & Grandpa's car Robert. His first appearance was made in "Skids' Twin". Bert is slightly darker than Skids. He cried when Mummy Pig told him that his twin brother is dead.
Gallery
Ad blocker interference detected!
Wikia is a free-to-use site that makes money from advertising. We have a modified experience for viewers using ad blockers

Wikia is not accessible if you've made further modifications. Remove the custom ad blocker rule(s) and the page will load as expected.