Peppa lost her best friend, Suzy Sheep for the last time.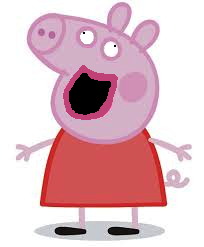 due to being greatly upset (and over reacting), she screamed and jumped out her window.
her brain got messed up, and thus, Crazy Peppa was born!

Crazy Peppa looks the same as normal Peppa, but she is usually cross-eyed.
Abilities
Being absurdly happy all the time
Blasting and eating rainbows
Flying
Changing into almost anything
Busting through walls
Who knows what else o.e
Trivia
It's obvious that her brain got messed up when she jumped, but no one can explain why she can fly
Ad blocker interference detected!
Wikia is a free-to-use site that makes money from advertising. We have a modified experience for viewers using ad blockers

Wikia is not accessible if you've made further modifications. Remove the custom ad blocker rule(s) and the page will load as expected.