Daisy and Domino are twins, and Danny's cousins. They like their family. Because Danny is most popular in the Dog family, they like him most. Domino also has super eye-sight, and Daisy has super-speed like Rebecca. They both like sports and even make several cameos. Domino is named for the white spots on his ears, while Daisy is named for the flower mark on her back, and named after her cousin, Daisy Dog. Unlike most of the dog family, they look more like Dalmatian dogs. Daisy is 1 min older than Domino. It is noted that they are very close to each other, because they have some clip-arts playing together. They are 5 years old. Daisy has a magenta dress with black spots along with a flower in the lower right corner with orange petals, a magenta middle, and she has a pink nose. Domino has a red shirt with a domino at the bottom, and he has a black nose. They both have blue eyes and black shoes. In some clip-arts, they are seen with tails that have a dip on them, but in some, they have lack tails. Their spots change places in many clip-arts. Daisy's pajama is megenta, and her slippers are black. Domino's pajama is red, and his slippers are also black. Domino's bedroom is kind of messy. It has a blue wall and a red floor. Domino's bed is blue. Above it, there is a bulletin board saying "Daisy X Domino" with a few scribbles and slime sploches. Next to it, there is a window. Daisy's bedroom is 'neat freaked'. It has a pink wall and a pink floor. Daisy's bed is pink. Above it, there is a bulletin board that says "Daisy X Domino" with a heart surrounding the words. Next to it, there is a window. Domino loves playing in his bedroom. Daisy loves playing in her bedroom. Both love playing in the backyard.
GALLERY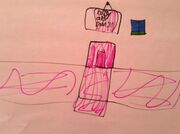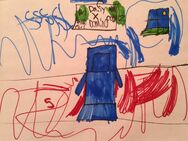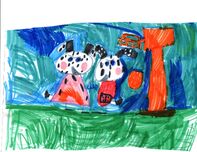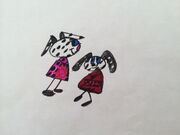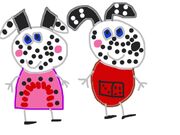 Ad blocker interference detected!
Wikia is a free-to-use site that makes money from advertising. We have a modified experience for viewers using ad blockers

Wikia is not accessible if you've made further modifications. Remove the custom ad blocker rule(s) and the page will load as expected.