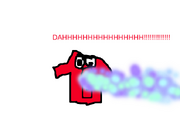 Danny's loud red coat is very loud and obnoxious. and loves to at times, grow a mouth and scream at people until they die. So i guess that's how the real madame gazelle died. it screamed at Alexander and that's how his voice changed. It screamed at the old voicers of Peppa and George I guess that's how their voices changed.
DANNY COULDN'T CONTROL IT AND COULDN'T STAND THE NOISE AT NIGHT SO HE SHOT HIMSELF!!!!!
RIP: DANNY DOG
I'M JOKING
Ad blocker interference detected!
Wikia is a free-to-use site that makes money from advertising. We have a modified experience for viewers using ad blockers

Wikia is not accessible if you've made further modifications. Remove the custom ad blocker rule(s) and the page will load as expected.