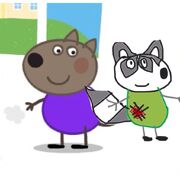 Danny: I want a little brother  Mommy Dog: I know we can go to the place where you adopt a child Danny: we can have a new dog in to are family Mommy dog: lets go then (Later that day) Danny: Hi Miss Rabbit do you have any dogs Miss Rabbit: well no. Danny: oh Miss Rabbit: but we do have little Cats Cows Danny: do you have any thing else Miss Rabbit yes i was going say more but you stopped me lets go look at more (9 mins later) Danny: is that all? Miss Rabbit well yes but we do have a Raccoon he is 2 he has been here since last year Danny: I will take him (1 day later) Danny: everybody i want you to meet my little brother he is not a dog he is a Raccoon Suzy: where did you get him Danny: the place where you get people who need a family Peppa: why did you not get a dog Danny; there was none Zoe: what is his name Danny: Johnny Dog now it is even that he is a Raccoon he is now a part of the dog Family and I love him Johnny: I love you too big Borther (they both hug)Suzy:I wanna go to a shop and adopt an ani- (black screen, end) *little hole opens* Suzy:-Mal!
Trivia
This is the first time we Johnny Dog/Raccoon
Danny now has a little brother.
Johnny Dog is two years old.
The place where Danny adopted his raccoon could be an "Animal Adoption Center" or a "Pet Store"
Ad blocker interference detected!
Wikia is a free-to-use site that makes money from advertising. We have a modified experience for viewers using ad blockers

Wikia is not accessible if you've made further modifications. Remove the custom ad blocker rule(s) and the page will load as expected.