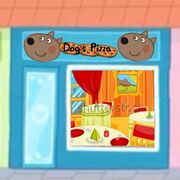 Dog's Pizza
is a restaurant in the Peppa Pig series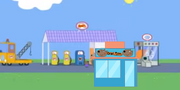 and is at
The Local Shops
and
Grandad Dog's Garage
. It is run by
Granny Dog
at the local shops and
Uncle Dog
at Granddad Dog's Garage. It is one of
Suzy Sheep's
favorite restaurants. Emily Elephant's family is usually catered by this restaurant, until the AA X Peppa Pig episode
Pizza Wars
. It was also mentioned in
Pedro's Pictures
,
Dog's Pizza
,
Dinky at Dog's Pizza
,
Dreaming About Driving the Car
,
Pedro Turns Evil
,
Who Votes The Buses?
,
Sammy Keeps Going
,
George Does What Mummy Pig Says
,
Peppatown Election
,
Fun Center Madness!
and
Boooo Booooo Peppa
. The location at Granddad Dog's Garage was introduced in
The New Dog's Pizza Location
and was also visited in
My Cousin Elizabeth
. Every Friday evening, they perform dinner theatre. You get free Ravioli with your Pizza within those hours.
Trivia
It is a parody of Abbati's Pizza from Angela Anaconda.
Due to the negative relationship between Uncle Dog and Mr Pony, Pedro Pony wasn't allowed there, however he is now.
As suggested in the episodes Pedro's Pictures and Dog's Pizza, they make their pizza from dough made fresh every day, never frozen.
They sell Cheese and Tomato, Garlic, Mushroom, Four Seasons, Pepperoni, Muddy Chocolate, Ravioli and Smoked cheese.
In Liopleurodons' and CreationBeTheWorld23's fandom, Peppa and other pigs are not allowed to eat meat pizza because that will be considered cannibalism.
Gallery
Ad blocker interference detected!
Wikia is a free-to-use site that makes money from advertising. We have a modified experience for viewers using ad blockers

Wikia is not accessible if you've made further modifications. Remove the custom ad blocker rule(s) and the page will load as expected.