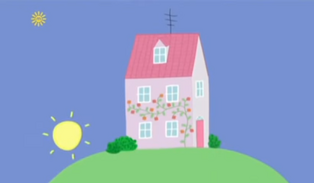 Emily Elephant's house is a minor location in the Peppa Pig series.
Description
Emily Elephant's house is located on a hill. It is where Emily Elephant and her family (including Edmond Elephant, Mrs. Elephant and Mr. Elephant) live.
Design
The house has a lavender color with flowers on it, and its roof and front door are both colored pink. There are some bushes around the house. One of the house's rooms has red-pink walls with a picture on one of them, and has a blue-gray floor.
Visits
The house appears in the game as the base for Emily's clique.