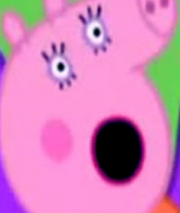 If you're happy and you know it eat your hands
i forgot about this
Pedro pig: Peppa, if you look into this telescope, you can see a planet eating spaghetti!
Peppa pony: That sounds lovely, Pedrpa, but i really should be going
~Mummy pig appears in a magic balloon~
Mummy Pe: We're going to be late to the 666th Annual Sprummer ball!
Peppa: Sorry. ~Backwards flies into the balloon~
Pedro: Oh wait. It's not eating spagetti, It exploded.
Peppa: Eifhg. ~closes the balloon~
~Balloon flies off~
Peppa: WE'RE GOING ON A TRIP IN OUR FAVORITE--
Mummy pig: Shut the fuck up
Balloon: A
Mummy pig: What seems to be the problem?
Balloon: A
Mummy pig: You won't tolerate swearing?
Balloon: A
Mummy pig: Sorry. 
Peppa: ~How does my ball gown look~
Grampy rabbit: ~I'm not in the balloon stop asking me~
Mummy pig: ~Keeps driving~ Are we there yet?
.
.
.
.
.
arewethereyetarewethereyetarewethereyetarewethereyetarewethereyetarewethereyetarewethereyetarewethereyetarewethereyetarewethereyetarewethereyetarewethereyetarewethereyetarewethereyetarewethereyetarewethereyetarewethereyetarewethereyetarewethereyetarewethereyetarewethereyetarewethereyetarewethereyetarewethereyetarewethereyetarewethereyetarewethereyetarewethereyetarewethereyetarewethereyetarewethereyetarewethereyetarewethereyetarewethereyetarewethereyetarewethereyetarewethereyetarewethereyetarewethereyetarewethereyetarewethereyetarewethereyetarewethereyetarewethereyetarewethereyetarewethereyetarewethereyetarewethereyetarewethereyetarewethereyetarewethereyetarewethereyetarewethereyetarewethereyetarewethereyetarewethereyetarewethereyetarewethereyet
Goldie: Oh, yes.
~Peppa and Mummy pig are at the ball now~
Mummy pig: 10 tickets for the Ice cream sundae show!
Ticket guy: Sorry, ma'am. We closed back in 204000. We stopped doing the ball 800 years ago.
Mummy pig: But, it's 2015
Ticket guy: Right...............IT IS
Mummy pig: What?
~He's gone~
Peppa parrot: Oh don't do it
Mummy pacman: ~Jumps into the ball through the windows~
Peppa pizza: Oh my god ~walks in through the door~
Ball king: Oh good. You have arrived. Everyone has already burst into flames, so you may now do so as well.
Mumacaroni: Marvelous. ~On fire~ c:
Peppa: I'm fire-proof. It's alright.
~Suzy sheep~
Ball king: Now, LET ICE CREAM RAIN ON THE PEOPLE!
~icecramrain~
~Fires go out~
Everyone: MERMAID
Peppa: LET THE ICE CREAM SUNDAE SHOW COMMENCE!!
Dino pizza: What am i even writing.
Ballking: Enjoy the rest of the ball, Everyone. The dancing flowers will be here shortly.
Mummy pig: Great isn't it?
Peppa: Woo!
Suzy sheep: ~Turns to stone~
Peppa:......Oh well.
The 666th Annual Sprummer ball: ~Melts~
Person: EVERYONE GET OUT!
~Everyone runs out screaming~
Peppa: Quick mummy pig! We can make it to the balloon!
Mummy pig: ~Falls on her face~ I won't make it.
Peppa: NNNNNNOOOOOOOOOOOOOOO--
~Everyone is suddenly in Ihop~
Rosie Rabbit: Cheers, Bro!