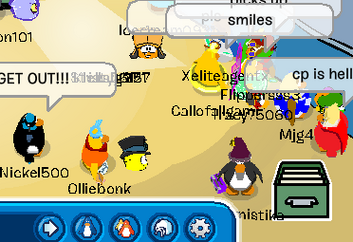 less sense! more stupidity! MORE, I SAY!
AAAAAAAAAAHHHHHHHHH
Mummy pig: all tucked in tight?
Peppa pig: yes, mummy!
George: ~snorts~
Daddy pig: good night, my little piggies!
Peppa: good night!
~the parents walk out~
even though Peppa had fallen asleep, George was still wide awake, saying backwards words to himself
Peppa: zzzzzzzzz.....
George: ANIGAV
~the window tapping~
George: ~screams and runs under the bed~
Richard rabbit: ~crawls in through the window~ QUICK! QUICK!
George: ~stretches~ what now? I'm losing so much sleep because of you
Richard: GET OUT HERE!!!!
George: fine! just stop screaming ~goes out the window~
like, 3 seconds later
George: why do i have to come with you every time?
Richard: everyone else hates me right now. you're all i have. YOU'RE ALL I HAVE, GEORGE
George: oh. that..that's kinda sad.
Richard: you get used to it. so, wassup?
George: well, i died last week because of you. but besides that, i'm cool.
Richard: oh yea. planet Stit gib XD
George: by the way, i'm really sorry about the dinos :'(
Richard: stop being a baby. oh yeah. that reminds me, ~gets a baby sheep out of his backpack~ THROW THIS BABY!
George: WWWWWWWWWWWWWWWWWWWWWHUT!? ಠ_ಠ
Richard: you heard me! THROW IT! THROW IT AS FAR AS YOU CAN!
George: BUT THIS IS A BABY! WHERE DID YOU EVEN GET I--
Richard: THROW THE BABY!!!!!
George: I'MNOTGONNATHROWTHISBAB--
RICHARD: YOUNEEDTOTHROWTHEBABYTOSAVEHUMANITY!!
George: FIIINE ~throws the baby sheep~
~the baby lands and explodes~
Mummy sheep: ~runs over~ MY BABYYYY!!!!
Suzy sheep: ~gasps and cries on her mum's dress~ poor sally!
George: OH MY GOD D':
Richard: congratulations, george. we just saved Earth. don't know why we did, though. this place is going down anyway. 
George: that baby..just..exploded! just like that alien did! there's no carrots this time but, you know what i'm saying. you can't just go around throwing babies!!!
Richard: OH YES I CAN! ~gets more babies from his backpack and throws them everywhere~
~EXPLOSIONS EVERYWHERE~
George:AAAAAAAAAAAAAAAAAAAAAAAAAAAAAAAAAAAAAAAAAAAAAAAAAAAAAAAAAAAAAAAAAAAAAAAAAAAAAAAAAAAAAAAAAAAAAAAAAAAAAAAAAAAAAAAAAAAAAAAAAAAAAAAAAAAAAAAAAAAAAAAAAAAAAAAAAAAAAAAAAAAAAAAAAAAAAAAAAAAAAAAAAAAAAAAAAA WHAT IS EVEN HAPPENING!?
Richard: alright we just about saved half the solar system. let's go for ice cream.
George: I DON'T KNOW WHAT ANYTHING IS ANYMORE.
Richard: it's fine it's fine. ~get's a clone of Sally from the backpack~ they'll never know
at the ice cream shop
Both: ~flailing arms~ LET'S BOTH GET RAINBOW SHERBET!!! ~eating ice cream~ HUEHUEHUEHUEHUEHUEHUE
George: ~dances on a table~
Richard: SHERBEEEET!!!!!!
George: ~knocks down a pile of ice cream cones~
Richard: HHHHHHHHHHHHHHHHAAAAAAAAAAAAAAAAA!!!!!!!!
Both:HHHHHHHHHHHHHHHHHHHHHHHHHHHHHHHHHHHHHHHHHHHHHHHHHHHHHHHHHHHHHHHHHHHHHHAAAAAAAAAAAAAAAAAAAAAAAAAAAAAAAAAAAAAAAAAAAAAAAAAAAAAAAAAAAAAAAAAAAAAAAAAAAAAAAAAAAAAAAAAAAAAA!!!!!!!!!!!!!!!!!!!!!!!!!!!!!!111111
Richard: ~gets out flame thrower~ FIIIIIREEEEE ~fire goes flying everywhere~
George: dude! richard! what are you doing!?
Richard: oh...guess that got out of hand.
~ice cream shop lights on fire~
George: HOLYCRAPRUN!
~they both run away~
~their parents show up~
Mummy pig: oh my poor baby!
Mummy rabbit: how did you two get out here?
Richard: hold on.  i got this. ~walks up to the worried parents~ we sweepwalk away! ~fake cries~
Mummy rabbit: awww! poor things! ~picks up both of them~
George: where dine-saw? 
Mummy pig: don't worry. i'm sure he's just lost again.
Both mums: come on. let's go home ~walking awayyyy~
~george and richard high five~
THE END
In loving memory of Sally sheep. 2013 - 2013
Ad blocker interference detected!
Wikia is a free-to-use site that makes money from advertising. We have a modified experience for viewers using ad blockers

Wikia is not accessible if you've made further modifications. Remove the custom ad blocker rule(s) and the page will load as expected.