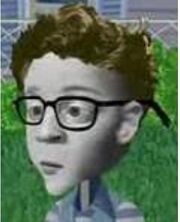 Gordy Rhinehart
is a boy on Angela Anaconda who, in the fanon Peppa Pig episode
Angela is Evil
, popped out of Peppa's TV while Angela Anaconda was airing and he asked Peppa for help as Angela made everyone in her (Angela's) universe creepy. He and Peppa went into the TV to try and defeat Angela.
Appearances
Ad blocker interference detected!
Wikia is a free-to-use site that makes money from advertising. We have a modified experience for viewers using ad blockers

Wikia is not accessible if you've made further modifications. Remove the custom ad blocker rule(s) and the page will load as expected.