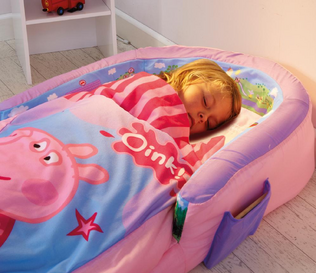 Peppa lives to turn up. mummy pig, however, doesn't....
dude, that's my transcript

it's 2am in the pig household. Mummy pig is alseep soundly in her bed. until....
Peppa: (from downstairs) WOOOOOO!!!!! ~loud crash~
Mummy pig: ~wakes up~ huh!?
Everyone: (from downstairs) ♫WE ALLL DA WAYYY TURRRNT UUUP♫
Mummy:....this is the work of Peppa. ~gets out of the bed~
meanwhile downstairs
Peppa: GUYS WATCH THIS. I'M GONNA JUMP OFF THE COUCH AND LAND IN GOLDY'S BOWL.
Goldy: ~panics~
Peppa: AAAAAHH ~jumps off the couch and lands in a pile of radicola cans~
Everyone: OOOOOH! :D
Peppa: AHHAHAHAHA-- hey. do you guys hear that?
mummy pig is backflipping angrily down the stairs
Mummy: RRRAAAAAAAAAAAAAAAAAA!!!!!!!!!!!
Peppa: oh man! my mom is coming!
~everyone panics and hides on the ceiling~
Mummy: ~lands at the bottom~
Peppa: guys. i think she's dead...
Mummy: ~get's up~ YOU!!!! D:< ~points at peppa~
Peppa: dude. don't get angry.
Mummy: I'M PAST ANGRY! THIS TIME I'M...DEEPLY OFFENDED.
Peppa: oh snap. mummy! i swear I'll never turn up again!!
Mummy: THAT'S RIGHT YOU WON'T. CUZ YOU'RE GROUNDED!!!!!
Peppa: WAT!!!!!!!!!!!!!!!!!!!!!!!!!!
Mummy Pig: GET UP THERE!
Peppa: Fine (goes to room) Jeez I need to do something about this (Falls asleep)
GONP: Peppa
Peppa: what
GONP: I am the ghost of niceness past
Peppa: what are you doing here, can't you see I'm grounded
GONP: come with me ( goes back in time with Peppa)
in the Episode Emily Elephant
GONP: look how nice you were to Emily
Peppa: yea but were not friends anymore
GONP: I know but I must leave...
GONP: Peppa
Peppa: yea yea I Know
GONP: come let me show you just a min. ago
peppa: #☀-%!
end