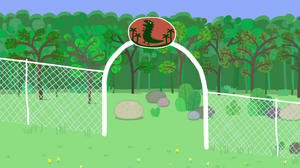 The Pollburg Dinosaur Park is a dinosaur park based in Pollburg, Peppadelphia.
It first appeared in the episode "Grampy Rabbit's Dinosaur Park".
The park appears in the game and plays a major role. At one point, Peppa's gang, including The New Pig, visits the park to find a dinosaur egg that Enily's clique is going to use to take over Peppatown. They encounter Emily, who has the egg, and sends out Grampy Rabbit and some real dinosaurs.
Trivia
The logo is a parody of the Jurassic Park logo.
Gallery