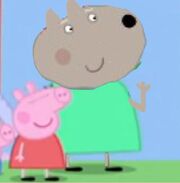 Granny Dog
(birth name Daphne Dog) is
Danny Dog
and
Dinky Dog
's grandmother and runs
Dog's Pizza
. She is voiced by Jill Shilling. In the episode
The Dog Holiday
, it is revealed that she owns a portable pizza oven.
Just like Granddad Dog sometimes gets into fights with Grandpa Pig, she gets into fights with Granny Pig.
Looks
She has dark greyish brown skin, and wears a pale green dress with black shoes. In CreationBeTheWorld23's fandom, Daphne wears a teal dress.
Ad blocker interference detected!
Wikia is a free-to-use site that makes money from advertising. We have a modified experience for viewers using ad blockers

Wikia is not accessible if you've made further modifications. Remove the custom ad blocker rule(s) and the page will load as expected.