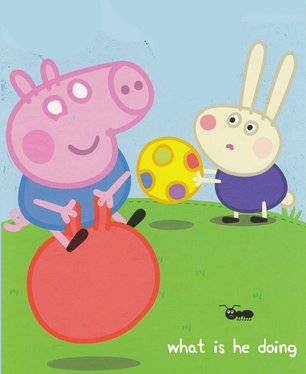 you wanna know who's moving in? okay! ITS...wait. you saw the pic? oh. then you know who it is.
KABOOM
we open on some construction workers in front of the Peppatown forest.
Mr bull: alright. we have to cut down this ENTIRE forest to make this new playground.
~they start cutting down the forest~
Peppa: ~jumping up and down~ ♫new playground! new playground!♫
George: ~giggles~ new playground!
like, 5000 hours later
Mr bull: alright. all of the trees are cut down and the playground will be up in 2 days.
Peppa and George: yaaay!
Mummy pig: time to go home!
Peppa: okay!
then they drove away. but when they got home...
Peppa: ~walks in~ Goldyy! we're ho-- WTF!?
Heropig: sup.
George: ~starts crying~
Peppa: mummy! daddy! get in here.
Hero: oh shnap. ~closes eyes and throws george outside~
Mummy and daddy pig: ~walks in~
Mummy: hey, george.
Hero: um..oink snort! DINO!!!
Daddy: something seems off about you, but who cares. ~goes upstairs~
Mummy: ~follows daddy pig~
Hero: ~opens eyes~ that was close.
~george runs back in, still crying~
Peppa: so anyway, what are you doing here?
Hero: well, you see, those jerkface construction workers cut down my house. and since you are the only people who aren't scared of me, i invited myself to stay here till i find a new home.
Peppa:.........oh.
Hero: THERE'S NOTHING TO DO! ~looks at goldy~ your fish is boring. hold on a sec. ~waves his hands at goldy~
~goldy's eyes turn white~
Hero: viola!
Peppa: WTF DID YOU DO TO MY FISH!?
George: ~cries louder~
Hero: i turned it evil, bro.
George: WWWWWWWAAAAAAAAAAAAAAAAAAAAAAAAAAAAAAAAAAAAAAAAA---
Hero: DUDE. SHUT UP ALREAD-- hold up. what's that?
Peppa: oh. that's the tv.
Hero: i don't have one of these in to forest....I'M GONNA COOK IT! ~picks up the tv and runs to the oven~
George: NOOOOO!!! ~runs after him~ D':
Hero: ~throws the tv in the oven~ THIS IS GONNA BE SOO DELICIOUS! ~dances~
George watched as his beloved television burned right before his eyes. and all he could do was cry.
Peppa: how long will this madness rage on....
George: wait, didn't the workers cut all the trees down?
Peppa: yes?
George: AAAAAH WE'RE ALL GONNA DIE!!!
Peppa: ...what?
George: TREES PROVIDE OXYGEN FOR US TO BREATHE, PEPPA! WITHOUT THEM... ~dies~
Peppa: I CAN'T BELIEVE NYAAAAAAAAAAAAAAAAAA... ~dies~
Hero: what's their problem? ~eats tv~
trivia
George was upset for almost the entire thing.