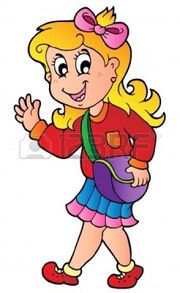 Hannah Kesterton is the protagonist of Littlest Peppa and is a pre-teen human girl who comes from Worcester, England on Earth, living with her mother and father. Starting on one day, when in a new world, she gains the ability to talk to animals. Her new best friends are Peppa Pig, Suzy Sheep, Danny Dog, Pedro Pony, Rebecca Rabbit, Wendy Wolf and Freddy Fox.
In the episode "On Another Planet", she was killed by Lisa Fox throwing her down a bridge and being turned to water, she then resurrected and returned back to Worcester.
In CreationBeTheWorld23's fanon, she works at Peppatown Boutique and is nineteen years old.