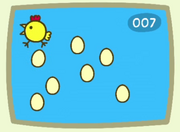 Happy Mrs. Chicken is a computer game. The gameplay revolves around pressing a key on the keyboard to make the titular character, Happy Mrs. Chicken, lay an egg. Once enough eggs have been laid, baby chickens will come out of the eggs. The baby chickens will also lay eggs.
Peppa Pig and her little brother George sometimes played the game.
History
On May 17, 2001, Happy Mrs. Chicken was lanuched.
Ad blocker interference detected!
Wikia is a free-to-use site that makes money from advertising. We have a modified experience for viewers using ad blockers

Wikia is not accessible if you've made further modifications. Remove the custom ad blocker rule(s) and the page will load as expected.