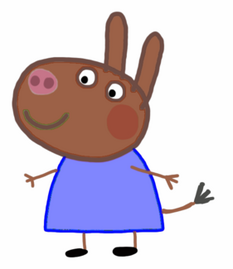 Henry Horse is one of Peppa's friends.
Henry is also friend of Pedro Pony and Danny Dog. He is very friendly and likes girls like Suzy Sheep but he doesn't want anyone to know about it, because of some problems he had as toodler in 2006, when she saw her mom with some sexy clothes with his dad Hiro Horse, which started his new secret life.
He wears a blue shirt, long brown ears and skin, and black shoes.
Ad blocker interference detected!
Wikia is a free-to-use site that makes money from advertising. We have a modified experience for viewers using ad blockers

Wikia is not accessible if you've made further modifications. Remove the custom ad blocker rule(s) and the page will load as expected.