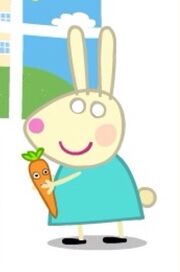 Herobecca was in
Heropig's Cloning Catastrophe!
Trivia
DestructoCarrot is her favorite toy carrot.
Her brother HeroRichard and her can use super strength by eating carrots.
Abilities and Powers
Super Strength (only by eating carrots).
Teleporting.
Telekinesis.
Laser Eyes.
Flying (when she flies, orange clouds follow her and Richard)
Ad blocker interference detected!
Wikia is a free-to-use site that makes money from advertising. We have a modified experience for viewers using ad blockers

Wikia is not accessible if you've made further modifications. Remove the custom ad blocker rule(s) and the page will load as expected.