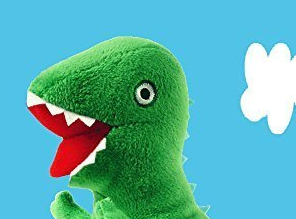 too early for this. that's all i know
transcript
Narrator: Peppa is asleep. having one of those weird dreams we all hate and end up thinking about for the whole day
peppa (in her sleep): wtf
george:.........(crying) WAAAAAAAAAAAAAAAHAAAAAAAAA. AAAAAAAAAAA!!!!
Peppa wakes up
Peppa:..........why
George:.......WAAAAAAAAAAAAAAHAAAAAAAA. WAAAAAAAAAAAAAAAAAA!!
Peppa: george? what's wrong?
George: dine-saw..
Mr dinosaur's tail was gone again
Peppa: oh george. i'll help you fine mr dinosaur's tail!
george smiles
Peppa: *picks up mr dinosaur* let's see...
(a written message falls out of mr dinosaur)
Peppa: what? *reads it*
if you don't find my tail in 3 seconds i will melt
Peppa: WHAT!?
Mr dinosaur: *melts*
george: WAAAAAAAAAAAAAAHAAAAAAA!!!!!!!
Peppa: ew mr dinosaur goo. wait. that gives me an idea.
(fast forward to an hour later. george is sitting at the table drinking a green drink)
george: *finishes the drink*
peppa: there. now the essence of mr dinosaur will always be with you.
george: diiiiiiineeeesaaaaaawwwww...
peppa: yo chill
george: *suddenly turns into mr dinosaur but 10x bigger*
peppa: :0
georgesaw: *stares*
peppa:
georgesaw:
peppa:
georgesaw:
peppa:
georgesaw:
peppa:
georgesaw:
peppa:
georgesaw:
peppa:
georgesaw: oh my god *screaming for no reason and running all over the place really fast*
(thousands of other georgesaws fade in, all of them running very fast)
georgesaws: YEEEEEAAAAAAAAAAAAHHHHHHHHHHH!!!!!!!!!!!!!!!!!!!!!!!!
mummy pig enters the room
mummy pig: peppa? is that you!?
peppa: MUMMY.PNG
mummy pig: PPEPPA
(mummy pig is overtaken by our new dinolords)
peppa: mama mia that's a spicy apocalypse
we'll be right back after these messages.
tired of squirrels always having a better tail than you!? then what you need is--
georgesaws: AAAAAAAAAAAAA!!!!!!!! *running at extremely fast speeds*
one of the gerogesaws: *does a rad awesome kickflip*
other georgesaws: OOOOOOOOOOOHHH!!!!!!
1st georgesaw: alright, georgesaws! we've taken over the commercials. now it's time to TAKE OVER THE WORLD!!
georgesaw: YEEEEAAAAAAAH!!!!!
voice: STOP THIS MADNESS AT ONCE!!!
one georgesaw: *melts*
mr bull: THIS HAS GONE ON LONG ENOUGH. AND I HAVE COME TO PUT AN END TO IT
georgesaw: not unless we stop you first
mr bull: AND HOW COULD YOU POSSIBLY DO THAT
georgesaw: if daddy pig has any lines this episode. the entire universe will instantly explode!
mr bull: WELL WHY WOULD DADDY PIG TALK
---

peppA: Mmmownhifn
daddy pig: okay so this one time, i was out grabbing lunch when polly parrot shows up and--
Peppa: DADDY P PIG YOU WEREN'T SUPPOSED TO HAVE ANY LINES THIS EPISODE!!!!!!!!
Daddy pig: oh right.
PEPPA:AAAAAAAAAAAAAAAAAAAAAAAAAAAAAAAAAAAAAAAAAAAAAAAAAAAAAAAAAAA!!!!!!!!!!!!!!!!!!!!!!!!!!!!!!!!!!!!!!!!!!!!!!!!!!!!!!!!!!!!!!!!!!!!!!!!!!!!!!
a whale: mama mia
the end