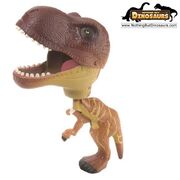 ZPrevious: Sodor Dinosaur Park's Pterodactyl Bounce House Slide
Next: Sodor dinosaur park's poorly drawn cave bear slide that never existed
Transcript
Narrator. Today, Peppa, George, Tobias, and Selmo are celebrating Jase's 6th birthday.
Mummy Pig. Happy birthday Jase, what is your present?
Jase. Dinesaw
Mummy Pig. Its a chomping T-Rex, push its tail.
T-Rex. Chomp, Chomp.
Peppa Pig. Is it a dinosaur?
Jase. Yes, it is a dinesaw grr.
Mummy Pig. You like dinosaurs like George.
George. Dinesaw.
Narrator. Mummy Pig, Peppa, George, Tobias, Daddy Pig, and Selmo took Jase into the dinosaur park.
Grampy Rabbit. Welcome to the dinosaur park.
Narrator. Jase went in the Brontosaurus Slide, the saber tooth tiger slide, and he pterodactyl bounce house slide.
Egg. Happy Birthday, Happy Birthday, Happy Birthday, Happy Birthday.
Daddy Pig. Wow! It's a cake, here you go Jase, how old are you?
Jase. Six years old.
Peppa. It looks like me oink.
(everyone eats their cake)
Narrator. For Jase's last present, George gave him a dinosaur bunj bed for George and Jase.
Daddy Pig. Good night my little piggies.
Gopher and 3 baby gophers. Yawn Yawn Yawn Yawn.
Ad blocker interference detected!
Wikia is a free-to-use site that makes money from advertising. We have a modified experience for viewers using ad blockers

Wikia is not accessible if you've made further modifications. Remove the custom ad blocker rule(s) and the page will load as expected.