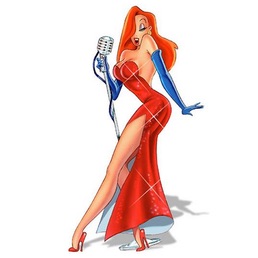 Jessica Rabbit
is a crossover character, originating from Disney/Touchstone's 1988 film
Who Framed Roger Rabbit
. She appears in "Priscilla Pig" and Eggs. Jessica's speaking voice is provided by Kathleen Turner, and her singing voice is provided by Amy Irving.
Looks
Jessica is a tall, voluptuous woman with a curvy and slender hourglass figure with a narrow waist, huge and broad hips. She has fair skin and long, luxurious red hair with sidebangs that usually cover her right eye. Her blue-green eyes are heavy-lidded and seductive with long dark lashes and accented by shimmering purple eyeshadow. Her nose is fairly small, especially in relation to her full, red pouting lips. Her ensemble consists of a disgusting red sequined strapless dress that reveals a lot of cleavage with a low back, a sweetheart neckline and a high thigh slit. In addition, she wears matching red pumps, elegant purple opera gloves and gold stud earrings.
Trivia
In "Priscilla Pig" she was the only computer-animated human.
Jessica's dress looks extremely disgusting because it shows off too much cleavage.

However, in Eggs her dress is more modest.
Ad blocker interference detected!
Wikia is a free-to-use site that makes money from advertising. We have a modified experience for viewers using ad blockers

Wikia is not accessible if you've made further modifications. Remove the custom ad blocker rule(s) and the page will load as expected.