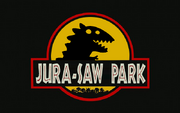 Jura-saw Park is a Peppa Pig spin-off movie, it parodies the book and the movie, Jurassic Park.
Plot
After Grampy Rabbit struggles financially, he decides to invest in bringing dinosaurs and other extinct species back and turn them into a zoo, which turns out to be a bad idea.
Characters
Trivia
When George sees the dinosaur roar, he freaks out like he did a few times when somebody roared in his face.
Dinosaurs
T-Rex
Velociraptor
Dilophosaurus
Gallimimus
Triceratops
Brachiosaurus
Kentrosaurus
Rhabdodon (called an Iguanodon, revealed in the website)
Pachycephalosaurus
Pteranodon
Ornithocheirus
Liopleurodon
Monolophosaurus
Ankylosaurus
Chasmosaurus
Iberomesornis
Spinosaurus
Troodon
Ophthalmosaurus
...and more
Gallery
Ad blocker interference detected!
Wikia is a free-to-use site that makes money from advertising. We have a modified experience for viewers using ad blockers

Wikia is not accessible if you've made further modifications. Remove the custom ad blocker rule(s) and the page will load as expected.