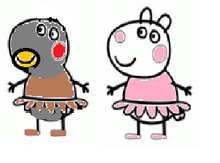 Template:Character Infobox
Her first appearance was in Kitanna Penguin. And her best friends are Lisa Fox and Emily Elephant.
Trivia
In The Peppa Pig Movie and in Troy the boy's fanon, she looks exactly like the Swiss Character Pingu, but she still has her dress
Kitanna Penguin is basead on Kitana from Mortal Kombat
Ad blocker interference detected!
Wikia is a free-to-use site that makes money from advertising. We have a modified experience for viewers using ad blockers

Wikia is not accessible if you've made further modifications. Remove the custom ad blocker rule(s) and the page will load as expected.