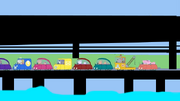 The Lemington Bridge is a bridge that connects from Peppatown to the Island of Soda. It was built by Sodium businessman Trumpets on don to make way for his wall in 2016. 
Trivia
The Island of Soda is the only iSally Island to have a bridge connecting from Peppatown.
Ad blocker interference detected!
Wikia is a free-to-use site that makes money from advertising. We have a modified experience for viewers using ad blockers

Wikia is not accessible if you've made further modifications. Remove the custom ad blocker rule(s) and the page will load as expected.