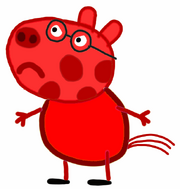 Madmen Pony is a recurring character in Peppa's Weird Stories.
Biography
He is an angry pony who resides in Weirdville, Sea Country Island.
Looks
He looks like Pedro Pony, but he has red skin, a red shirt and a red tail.
Appearances
He appeared in most episodes of Season 2. He first appeared in "Life in Sea Country Island", the first episode of that season.