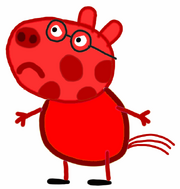 Madmen Pony is a recurring character in Peppa's Weird Stories.
Biography
He is an angry pony who resides in Weirdville, Sea Country Island.
Looks
He looks like Pedro Pony, but he has red skin, a red shirt and a red tail.
Appearances
He appeared in most episodes of Season 2. He first appeared in "Life in Sea Country Island", the first episode of that season.
Ad blocker interference detected!
Wikia is a free-to-use site that makes money from advertising. We have a modified experience for viewers using ad blockers

Wikia is not accessible if you've made further modifications. Remove the custom ad blocker rule(s) and the page will load as expected.