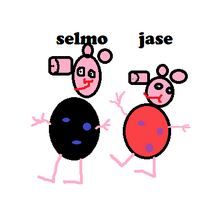 Selmo and Jase are 2 cheeky lil' twin piggies at 1 years old that LOVE jumping up and down in muddy puddles, just like they're big sister and big brother, Peppa and George! They run around the house giggling and screaming. They are best friends with ZuZu and ZaaZaa Zebra. They are adorable.
Jase
Favourite food: Fish fingers (current) Burgers (future)
Favourite drink: Juice (current) Mountain Dew (future)
Selmo
Favourite food: Potatos (current) Bannanas (future)
Favourite drink: Milk (current) Lemonade (future)
Ages
Selmo is 3 seconds older than Jase.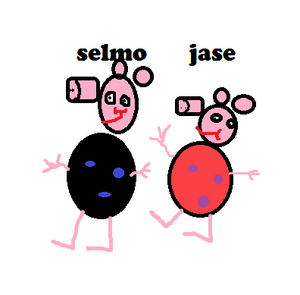 Ad blocker interference detected!
Wikia is a free-to-use site that makes money from advertising. We have a modified experience for viewers using ad blockers

Wikia is not accessible if you've made further modifications. Remove the custom ad blocker rule(s) and the page will load as expected.