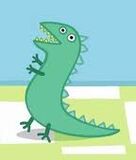 Mr. Dinosaur is a toy that belongs to George Pig. Whenever George and Peppa (or other characters) play with it, he imitates a dinosaur's roar while holding up Mr. Dinosaur. Then Peppa (or others) will playfully shout "Ah! Too scary!" or "Eek! Too scary!" and then run off laughing while George chases them with Mr. Dinosaur.
Trivia
Mr. Dinosaur has a similar appearance to an Allosaurus or a carnosaur species like Megalosaurus.
Mr. Dinosaur is not the only dinosaur George has, he also has a whole collection.
Mr. Dinosaur got an upgrade in Ol' Buddy Dino.
In The Island of iSally, Mr. Dinosaur's body is used for Reptar.
Ad blocker interference detected!
Wikia is a free-to-use site that makes money from advertising. We have a modified experience for viewers using ad blockers

Wikia is not accessible if you've made further modifications. Remove the custom ad blocker rule(s) and the page will load as expected.