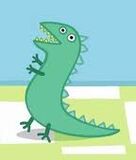 Mr. Dinosaur is a toy that belongs to George Pig. Whenever George and Peppa (or other characters) play with it, he imitates a dinosaur's roar while holding up Mr. Dinosaur. Then Peppa (or others) will playfully shout "Ah! Too scary!" or "Eek! Too scary!" and then run off laughing while George chases them with Mr. Dinosaur. The soul of a real dinosaur has been trapped in the toy since it was made in a Chinese sweatshop in 1969. It unfortunately has to endear being inserted into George's rectum.
Mr. Dinosaur appears in Peppa and George's room. He bounces when punched.
Trivia
Mr. Dinosaur has a similar appearance to an Allosaurus or a carnosaur species like Megalosaurus.
Mr. Dinosaur is not the only dinosaur George has, he also has a whole collection.
Mr. Dinosaur got an upgrade in Ol' Buddy Dino.
In The Island of iSally, Mr. Dinosaur's body is used for Reptar.
In Peppa Holly Power Hour, Holly made him come alive. As a result, he grown into a giant and wreaked havoc in Peppatown, where he bit Mayor Armadillo's statue's head off, ate all of Madam Gazelle's escargots, tore the Playgroup roof off, destroyed many buildings and tried to eat Peppa and her friends. He also made Daddy Pig go insane by eating his bread, water and cheese and smashed the Peppamobile with his tail. However, Ben and Holly turned him back into normal.
In Peppa's adventures, Peppa sells him to Sonicthehedgehog223 in the episode "George hates High School'.
He is owned by the user Willdawg14 in Under Peppa's Pants, as the viewer can see the dinosaur on his table.
He is seen in CGI in Virtual Peppa when Daddy Pig (in CGI) uses him to scare the Virtual Vultures away from him. George didn't seem to mind about it, though.