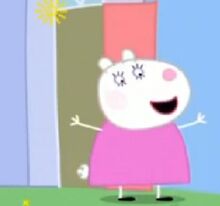 Mrs. Sheep (birth name Sabrina Sheep) is a recurring character in Peppa Pig.
Biography
She is the mother of Suzy, Sammy, and Spencer Sheep, and the one who's on her way. She drives a blue car, and also works in a fire engine.
History
Mrs. Sheep lived with her parents Susan and Sage Sheep when she was a child. She helped them with a lot of work, such as cleaning, washing and tidying.
When she was 16, she decided to move out. She moved to a block of apartments 2 miles from Peppa Pig's house; it was a very nice apartment. A month later, she got a job as a cashier in a shop, and earned 700 pounds in 6 months. One night she was in an ice cream shop. It was a summers night (20th of July to be exact). At the shop, she met a male sheep called Sam. Then, they both started talking to each other. Sam ordered 2 ice cream cones (Sabrina had vanilla ice cream and Sam had a strawberry one).
They moved into Sabrina's appartment, and lived happily with each other for 2 years. Sam then sometime proposed to Sabrina, and moved into a nice house on a hill top. They lived happily with each other and had a child called Suzy Sheep. Suzy being an only child, she did not have to share toys with anyone else. She was a little sad she had no siblings, but that's different now; she has lots of good and nice friends now.
Looks
She has white wool and wears a fuschia dress like her daughter Suzy. She also has eye shadows of a gray-lavenderish color.
Trivia
Her nightgown was seen in Suzy's Cousin, and her underwear was visible in said episode when she was watching a romantic comedy with her husband.