WARNING: THE EPISODE IS A BETA. IT IS NOT ONE OF THE ORIGINAL MUDDY PUDDLES FROM 2004. THIS MUDDY PUDDLES EPISODE IS FROM 2001, AND IT IS PRETTY BAD AND THE IMAGE IS BAD TOO.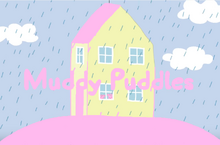 STORY:
So a guy named John was walking down the street. And suddenly, a VHS tape fell from the sky. It had a tag saying: "Muddy Puddles: Peppa Pig" And John was a big fan of Peppa Pig. So he went back home and he turned on his VHS Player in the basement.
He inserted the VHS in the player, and started to play. The theme song was playing. It seemed kind of normal, but instead of Peppa Pig's red shirt, it was pink. John was pretty shocked to see that, he thought, "Peppa Pig's shirt is not pink...!" He was confused, but he kept on watching. Then the intro ended, and the episode was playing. It seemed normal for a bit, but instead of the text, "Muddy Puddles" being brown, it was also pink. The same color as Peppa's shirt.
The episode kept on playing. It showed Peppa and George, looking sad and looking at the rain, just like the original Muddy Puddles episode. George looked different too. Instead of a blue shirt, it was orange. He didn't care, he was not shocked. He kept on watching. The rest of the episode played and nothing seemed different, except for the puddles, the puddles were not muddy. Instead, it was water.
He watched the credits. The end of the credits looked different. Instead of saying the copyright of the episode was 2004, it was 2001, three years before Peppa Pig was made.
John was very shocked about the episode, so he asked his mom, named Riley. He asked, "Riley, i found a VHS tape on the street. It was Peppa Pig, the first episode. But it was not that good. They were differences. I will tell you some later. But, the episode was made in 2001! So, is this 2001 episode lost, or made?"
Riley was confused about this. So she said, "...Lost?"
John was shocked. He went to the basement and watched the episode again.
Was the episode lost? Was that were the consequences of being a real episode or a lost episode? We shall read this again!
Ad blocker interference detected!
Wikia is a free-to-use site that makes money from advertising. We have a modified experience for viewers using ad blockers

Wikia is not accessible if you've made further modifications. Remove the custom ad blocker rule(s) and the page will load as expected.