Muma pork (birth name Mari pork) is Pippa pork's mother and the Pippaverse counterpart of Mummy Pig.
Appearance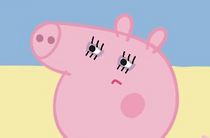 Muma pork is a light pink pig who wears makeup. Her eye pupils are noticeably bigger than everyone else's. She wears a dress similar to Pippa's, but it's white and blue.
When Muma marries Father pork, she wears an ivory dress with a transparent vanilla veil with the Google Translate logo embedded on it. She wears a tiara made of yellow flowers and thick green leaves to hold her veil in place. Muma's dress has short puffy sleeves and long, transparent ivory evening gloves. It has a high slit at the left leg and a low heart-shaped neckline.
Personality
Muma pork tends to act very strangely. In Torsey Hwinkle Toes, it was revealed that she has citsatkcarc. A rare condition she developed after giving birth to Pippa. She tends to act impulsively and scream at things when she doesn't know what they are. She doesn't seem to have much of a personality outisde of having citsatkcarc. However, if you get to know her personally, she is a very nice person.
Trivia
Muma is revealed to be dating Father pork in 2007 in Crushed.
Since all of their names are created by Google Translate, Muma's name should actually be Mother pork.
She has died a total of 3 times in the Pippa Pork series.
The magazine Ezza appears in the series, except it's called 'azze'. Muma Pork can be spotted reading it from time to time.
She has a secret crush on Mistress roes
Ad blocker interference detected!
Wikia is a free-to-use site that makes money from advertising. We have a modified experience for viewers using ad blockers

Wikia is not accessible if you've made further modifications. Remove the custom ad blocker rule(s) and the page will load as expected.