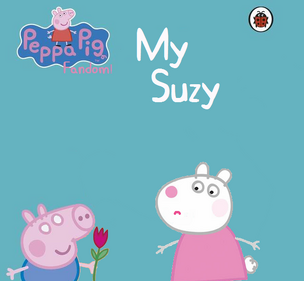 i got bored. so i wrote this short HeroSuzy thing. 
that's all i'm gonna say..
READ IT!...if that's okay with you :)
~dat 10 second theme song plays~
peppa and suzy are hanging out.
Peppa and Suzy: ~doing some stuff~ HEE HEE HEE HEE!!
Peppa: Suzy, you're my best friend ever!
Suzy: you're MY best friend ever!
Peppa: No you!
Suzy: No you!! ~hugs peppa~
Peppa: hahaha 
Mummy pig: Peppaaaa! time for supperrrr! :D
Peppa: i have to go. bye!
Suzy: byeee
Peppa: ~runs into her house~
Suzy: ~walks away~ lalalala :)
Heropig: ~teleports in front of Suzy~ hello~!
Suzy: AAAHHHHH!!!!!!! OMIGOSH! PEPPA! THAT THING THAT ATTACKED US IN THE FOREST IS HERE!! ~freakz out like omg~ D':
Heropig: jeez. relax. i'm just here to ask you something
Suzy:...?
Heropig: soooo. i was..wondering..if you...if you...if you..IF..IF......IFFFFFFFFFFFFFFFF....
Suzy: JUST SPIT IT OUT ALREAD--
Heropig:IIIIIIFFFFFFFFFFFFFFFFFFFFFFFFFFFFFFFFFFFFFFFFFFFFFFFFFFFFFFFFFFFFFFFFFFFFFFFFFFFFFFFFFFFFFFFFFFFFFF........
Suzy: forget it -.- ~walks away~
Heropig: OH NO YOU DON'T ~shoots a laser at Suzy~
Suzy: OMG! D: fine. i won't forget it.
Heropig: good. so anyway. i was wondering if...you wanted to go out with me?
Suzy:..woah. i was NOT expecting that.
Heropig: i know XD so what do you say?
Suzy:..you what? why not? sure i wi--
sadly enough, Peppa has awful timing
Peppa: SUZY! DON'T WORRY! I'M HERE!
Heropig: ~gasps~ D': ~remembers The legend of Heropig~
Peppa: GET OUTTA HERE!!
Heropig: PLZ DON'T PUNCH ME AGAIN ~teleports away~
Peppa: you're safe now, suzy!
Suzy:...i hate you so much right now.
Ad blocker interference detected!
Wikia is a free-to-use site that makes money from advertising. We have a modified experience for viewers using ad blockers

Wikia is not accessible if you've made further modifications. Remove the custom ad blocker rule(s) and the page will load as expected.