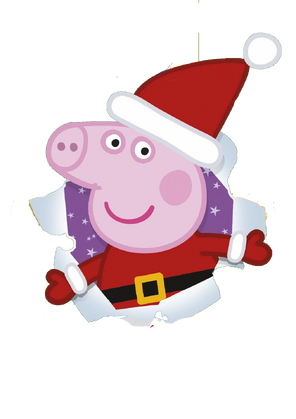 This is a fan made Thanksgiving special. Pigs doesn't know how to say "Thank you".
The Day of Oinksgiving
Mummy pig: PEPPA!!! WAKE UP!!!!!
Peppa: (falls off the bunk bed) Oww! What the heck?!
Mummy: Peppa! it's Oinksgiving!
Peppa: What's "Oinksgiving"?
Mummy: It's the one day of the year you get to give oinks!
Peppa: not interested. ~climbs back into bed~
Mummy: There's a huge feast!
Peppa: (jumps out of bed) OINKSGIVIIIIIIIING!!!!!!!
Announcer: Super-oink unlocked! Congratulations, Peppa!
Peppa: (gasps!) Who said that!? SEARCH THE HOUSE!! (holds up a knife)
A wee bit later....
(George standing outside)
George:(holds up Mr dinosaur) Finally, we're alone.
Peppa: (Jumps from her bedroom window and lands in front of George on her feet) HAPPY OINKSGIVING, GEORGE!!!! (snorts really loudly in his face)
George: NOOOOOO!! (goes flying into the sky) (Mr. Dinosaur blows up)
Peppa: (runs over to some trees and snorts loudly)
(all the trees fly away)
Peppa: HAHAHAHA! OINKSGIVIIIIING!!!!
Mummy pig: (runs to Peppa) Stop, Peppa! This isn't what Oinksgiving is about!
Peppa: IJENKG FJEFK NH2 ~snorts mummy pig away~
Mummy pig: Help! Peppa's gone mad with power!! ~runs~ 
Peppa: CAN I RING SUZY SHEEP ??!
Mummy pig: ~from really far away~ suuuuuuuuuure!!! ~throws the phone at Peppa~
phone: BEEP BEEP BEEP BEEP
Suzy: ~baaa~ Hello, Peppa!
Peppa: HEY SUZY. WANNA KNOW WHAT I'M OINKFUL FOR!?
Suzy: um...sure?
Peppa: ~oinks as loud as she can into the phone~ PPPPPPPPPPPPPPPPPPPPPPPPPPPPPPPPPPPPPPPPPPPPPPPPPPPPPPPPPPPPPPPPPPPPPPPPPPIIIIIIIIIIIIIIIIIIIIIIIIIIIIIIIIIIIIIIIIIIIIIIIIIIIIIIIIIIIIIIIIIIIIIIIIIIIIIIIIIIIIIIIIIIIIIIIIIIIIIIIIIIIIIGGGGGGGGGGGGGGGGGGGGGGGGGGGGGGGGGGGGGGGGGGGYYYYYYYYYYYYYYYYYYYYYYYYYYYYYYYYYYYYYYYYYYYYYYYYYYYYYYYYYYYYYYYYYYYYYYYYYYYYYYYYYYYYYY!!!!!!!!!!!!!!!!!!!
Suzy: Peppa! D: PEPPA! NO NO NO NO NO NO ~bursts into flames~
Peppa: YES! YES!! OH YES BABYYES YES!!!!! ♥ :'D
George: ~on his knees crying~ PEPPA! STOP THIS MADNESS!!
Peppa: Nope! TIME FOR THAT FEAST! ~runs home like sonic~
~at the table~
Daddy pig: Alright, Peppa. what are you Oinkful for?
Peppa: I'm oinkful for my mummy, my daddy, George, Goldie, the sitting room, the kitchen, this house, Suzy, the playgroup, madame gazelle, the car, the classroom, Pedro pony....
2 hours later
Peppa:....all my friends from other countries like Delphine donkey, Kylie kangaroo, and I'm very oinkful for Oinksgiving.
Mummy pig: ~wakes up~ what? oh. right. DIG IN!
Peppa: ~opens her mouth and all the food is gone~
George: OH SHUT UP!!!! ~punches peppa in the face~
Peppa: ~karate kicks george into the ceiling~ 
George: OW! GET ME OFF OF ME!!!!
Peppa: ♫HAPPY OINKSGIVI--
Daddy pig: Peppa, you have to says "Thanksgiving"
Peppa: Thanksgiving? what's a "Thanks"?
Daddy pig: Beats me! But you have to say it!
Peppa: ♫HAPPY THANKSGIVING......EVVVVVVVVVVVVVVVVVVVVVVRRRRRRRRRRRRRRRRRRRRRRYYYYYYYYYYYYYYYYYYYYYYYYYYYYYYYYYYYYYYYYOOOOOOOOOOOOOOOOOOOOOOOOOOOOOOOOOOOOOOOOOOOOOOOOOOOOOOOOOOOOOOOOOOOOOOOOOOOOOOOOOOOOOOOOOOOOOOOOOOOOOOOOOOOOOOOOOOOONNNNNNNNNNNNNNNNNNEEEEEEEEEEEEEEE~!!!!!!!!!!!!!!!!!!!!!!!!!!!!♥♥♥♥♥♥♥♫
(the lamp slides off the table and shatters)
Peppa: What was all that about? Oh well.
The End
Character appearances
Trivia
Suzy burst into flames when Peppa said, "Piggy".
Garrett Ghost broke the vase by his clumsiness.
Garret Ghost made a cameo in this episode.
"Oinksgiving" is an obvious parody of "Thanksgiving".