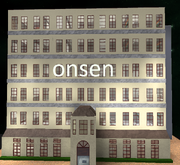 Onsen is a Sodium television soap opera first premiering on June 5, 1953. It is about drama going on in a hotel called the Onsen.
Cast
James D. Midthbourgh as Detective Jack Berthton (played by Isaac Wilder from 1953 to 1998 and Weed Creaks from 1999 to 2015) - A young detective whom moves into the Onsen, but later he finds out the hotel has a long line of history about murders.
Vera Rodriguez as Ruby Gymes (played by Nessa Gonzales from 1953 to 1995 and Alisa Golese from 1996 to 2015) - A young, beautiful Hispanic woman who is the girlfriend of Jack and lives at the Onsen.
Trivia
The Onsen was built around 1795.
It currently takes place in London, England.
The soap opera took place on an island resort near Italy until Season 10.
It is filmed in Lemington.
In the Season 63 finale of the soap opera, the Onsen burns down because of a firework show that involved the age of the wires.

Also, in the finale, a businessman tries to demolish the old Onsen, but fails.

In 1995, it crossed over with Sea Country Island soap opera East.
The hotel in the season 64 exterior shots is actually an abandoned resort that the director bought after it closed.
In the Season 64 finale, the Onsen has a massive flood, due to an unidentified criminal messing with the pipes and the hotel closes for good.

The series will have a 65th season.