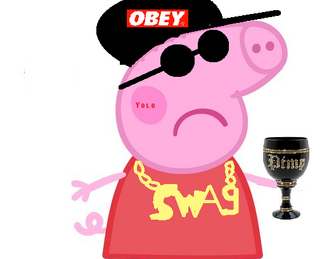 PEPPA PIG IS A YO BLING??? WUT
Mummy pig: Im bored. Let's play a game. How bout tiddlywinks??
Peppa: ARE U FREAKIN CRAZY??????  IM NOT 7 YRS OLD AS U THINK I AM!!!
Mummy: o_0
George: DINESAW HAS TURNED INTO  A YO BLING!!! NOOOOOOOOOO!!!!!!!!!
Peppa: YEES! That's wut i'll be! A YO BLING MANNN!!!! COMIN' THROUGH *Flies off*
Peppa robs a bank.
Bank manager: HEY!!! POLICE!!! U, STOP THERE NOW!!!!!
Peppa locks herself into a vault full of money with mr dinosaur.
Peppa: Hey, Dino, what should we do with all this money??
Dino: YOU IDIOT! I CANT EVEN TALK AND U EXPECT ME TO ANSWER A QUESTION??
Peppa: Your a lame yo partner. *flies off with a sack of money*
Steals gold ring and necklace from Granny Pig*
Peppa: HMM. If im a gangster, then I need a cool name.. How about: NANNYMAN???? COOL. 
Nannyman flies off to a whole other dimension, and become's king.*
Mummy Pig: Peppa! George! Cookies!!]
Nannyman hears Mummy pig's calls*
Nannyman: Ok... cookies.. hmmm. Ok i guess i can stop being Nannyman for 1 day.... COMING MUMMYY!
THE END... OR IS IT???
Ad blocker interference detected!
Wikia is a free-to-use site that makes money from advertising. We have a modified experience for viewers using ad blockers

Wikia is not accessible if you've made further modifications. Remove the custom ad blocker rule(s) and the page will load as expected.