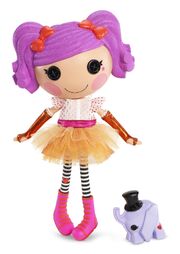 Peanut Big Top
is from the Lalaloopsy realm. She has lots in common with Peppa and Angela.
Personality
She is an extremely funny, outgoing, sociable child. She is acrobatic. She likes to tell jokes. Her group is composed of herself, Marina, Ace, and Patch. She hates Bea Spells-a-Lot and her walkie-talkie girls, Tippy and Crumbs.
Trivia
Each of Peppa's counterparts are supposed to be in love with Danny's counterparts, who are supposed to be in love with Emily's counterparts, but Ace has a crush on Peanut.