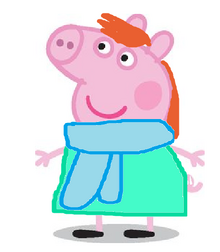 Penny Pig is one of Peppa's sisters. Penny is 15.
Personality
Penny is smart, quick-thinking, kind, caring and helpful.
Looks
She has pink skin. Penny wears a dress of aquamarine with a sea green scarf, because she loves the sea. Her shoes are black. Penny has hair and it is reddish brown.
When swimming, Penny wears a sea green swimsuit and because she can swim very well, she doesn't wear armfloats.
Ad blocker interference detected!
Wikia is a free-to-use site that makes money from advertising. We have a modified experience for viewers using ad blockers

Wikia is not accessible if you've made further modifications. Remove the custom ad blocker rule(s) and the page will load as expected.