Peppa's adventures is a cartoon written by HannelSam, Ozarcusmapseae, MatthewSmarter, Oreo-And-Eeyore, Willdawg14, Sonicthehedgehog223, MrsWhatever40 and The Writer. On February 11th 2018, the show was renewed for a second season.
Episodes
Season 1 (January-May 2018)
Season 2 (May 2018-September 2018)
Season 3 (October 2018)
(Note: This season has an ongoing storyline that lasts the entire season)
Season 4 (Janaury 2019-March 2019)
Season 5 (April 2019-June 2019)
Season 6
(Note: Like Season 3, this season has a continuing storyline)
Season 7
If in green, the episode aired on Disney XD"s Randomation Animation block before it aired in Peppaland.
"I'll Hannel This" - HannelSam tries to have her own adventure.
"The New Job" - Barbiedollfan2003 (on her original account) gets a job at the press. A shape-shifting blob becomes her co-worker, and edits the stories to cause mayhem around town. Barbiedollfan2003(on her original account) must stop it.
"Child Abduction is Slightly Funny" - When children around Peppatown start getting kidnaped, the users decide to move all the children into a treehouse.
"Welcome to the Ozarcade" - Ozar discovers an abandoned arcade near Qralo.
"R.E.T.A.R.D.S" - The users decide to start their own adventure club- the Really Exciting Tribe After Really Dangerous Stunts.
"Eat That Almond" - Dr. P. Plep (Peppa in disguise) tries to see how long Sonic can go without food. Then, Almond Elephant shows up and Sonic tries to eat him.
"All That Shines" - When Peppa cleans up Sonic's treehouse without permission, Sonic gets upset because she re-arranged everything.
"Peppaverse's Nations and Regions" - Peppa questions the audience if they know Peppaland, Island of Sally, and other countries, and Willdawg14 questions the audience if they know Peppatown, Peppaland City and other states.
"Sonic Says Die" - Sonic realizes for a day, he can make the people in Peppatown to do whatever he commands.
"The Third One" - The children try to help Potato City get its spark back after a new amusement park is opened right next to it.
"The Power of Four" - Mummy Pig tests everyone on their friendship by making them pair up in groups.
"SEGA Takes AGES" - Sonic goes on adventure with the other users to fill in the time for his package. Meanwhile, a war starts on whether or not Peppatown should use British or American English.
"The Dream Land" - Willdawg14 decides to figure out why he's having so many weird dreams. He ends up building a machine that allows him to view all his previous dreams, from being kidnaped by aliens to having sex with a Satan-obsessed fox.
"The Purge" - To prove to everyone he's not too mellow, Selmo organizes the first official Peppatown purge.
"Randycar" - Willdawg14 and Sonicthehedgehog223 try to help Randy Rhino with his new taxi company.
"Ayyiya Want Role" - George, Alex, Jase, Selmo, and Ayyiya start a protest about how the supporting characters need some screentime.
"May The Best Win" - Emily goes to an acting class and is ignored, but Suzy copies everything she does and gets aknowledged. Peppa and Danny try to put Emily in the spotlight.
"Qb abg cerff gur ohggba!" Sonic goes on an adventure with Alex and Caden to decipher this episodes title.
"Prisoners, Out Of Control" - Willdawg14, Barbiedollfan2003 and Peppa get trapped in a prison.
"Adventures Make The Doctor Stay" - Dr. Brown Bear goes on strike. The town begs him to come back when everyone gets sick.
"The Deathtrap" - Continuing from "Qb abg cerff gur ohggba!", Sonic, Alex, and Caden escape the temple, but they don't know how many surprises lurk inside.
"Peppaplanet" - Peppa's friends have other things to do, so she buys an alien planet and thinks of living there forever.
"Skids 2.0" - Skids gets an update.
"Growing by the Thousands" - Alex discovers a fungi that swallows anyone it comes by. Eventually, it turns into a Katamari.
"The Doctor is Out" - All the doctors in Peppatown suddenly die, so the users decide to become doctors.
"Faith Brownie" - Willdawg14 eats a sacred brownie, which causes an apocalypse.
"Imposting Poser" - A crazy guy claims to be the reincarnation of Prince Mason, and vandalizes Peppatown. The kids try to stop him. Meanwhile, Sonic and Quongus annoy him to death
"They Don't Flock" - Someone named Barbiedollfan2003 claims to be MrsWhatever40.
"Sonic's Comedy Show" - Sonicthehedgehog223 puts on a comedy show to entertain everyone in town.
"Demonic Fox" - Peppa debunks a theory about a fox named Demonic Mario going to nuke Peppaland, but has to stop him when he reveals he's actually going to do it.
"Peppa vs the Giant Fireball" - A giant fire monster approaches Peppatown and tries to destroy everything. Now, Peppa must kill it.
"Dumb Ways to Fly" - Will attempts to break the rules of physics by flying, which, in Alex's eyes, is impossible.
"Dull" - Logan begins to think his nose is growing, even though he doesn't have a nose.
"Twisted Heads - A strange creature called a Twisted Head, which can only look to the left or right, appears in Peppatown, and begins ruining everyone's lives. The users try to stop it.
"Blank Room Sonic"- Sonicthehedgehog223 becomes trapped in a room, and the other users must try to break him out.
"There's No Going Back"- Willdawg14 attempts to make his summer vacation last longer by getting a job as a counsellor at a summer camp, only to discover that it is for handicapped kids.
"Cute and Lovely" - Peppa thinks she's cute but everyone thinks she's ugly.
"Make Non-Bullying Kill Itself" - The users realize they can get whatever they want by bullying someone, so they strive to save bullying from becoming extinct.
"#cancelusernews" - The users decide to troll their viewers by pretending to cancel User News.
"Fist Pump" - Peppa's new handshake angers a god. Meanwhile, the users plot to kill Alex for making them look stupid.
"Ferdi-Dummies" - MatthewSmarter runs away from Peppatown, and travels to Spain, thinking he will be able to learn better English there so the other users will understand him more. The users go to Spain to convince their friend to return home, but the people of Spain mistake them for gods, and will do whatever it takes to keep them in their country. Meanwhile, Willdawg14 falls in love with a calming goat named Lupe, and must choose to stay with her or go back to Peppatown.
"Infinity Store" - Sonicthehedgehog223 finds the Infinity Gauntlet, and uses it to create his own brand of stores.
"Oooh-Lala" - MrsWhatever40 opens her very own spa in Peppatown.
"Thrones of Games" - Peppa and Willdawg14 get stuck in a Game of Thrones parody. Meanwhile, Sonic tries to burn the TV the former two are in for it being a 720p TV and not a 1080p TV.
"Pipe Dreams" - The users explore the dreams of the inhabitants of Peppatown.
"Evolving Moths" - Moths evolve into humanoid figures, and eventually take over Peppaland, turning people into moths. The children and the few surviving users find a cure (40 minutes).
TV Specials
Movie
Main article: The Second Coming
On May 8, 2018 at 7:14pm UTC, Pennzoil on Oinker confirmed six and seventh seasons for Peppa's adventures, scheduled to premiere between late-2019 to an unknown date in 2020. A few crew members initally said that season 7 would be the show's last, like season 4 was initally intended to be. The season 6 roster was revealed the following day, and the rumors of the show ending were proven false, with a fully CGI special confirmed. On July 22, 2018, the special was turned into an official, theatrical movie entitled "The Second Coming" slated for 2020. A tie in game is also planned.
DVD Releases
In February 2018 it was announced that there will be DVD releases of Peppa's adventures.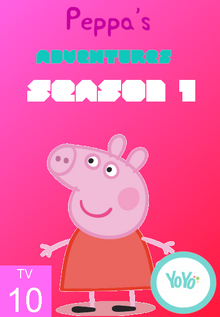 Peppa's Computer Adventures - a collection of Peppa's adventures episodes that feature computers.
Peppa and Sonicthehedgehog223 - a collection of Peppa's adventures episodes that feature Peppa and Sonicthehedgehog223.
Peppa's adventures: The Entire First Season- a collection of Peppa's Adventures episodes that was in Season 1.
Peppa's Spooky Stories - A collection of Peppa's adventures episodes that feature spooky stories.
Peppa's Peppaverse's Nations and Regions and other stories
Characters
Regular Characters
Peppa Pig - A 19 year old girl who is having time off from university. She is voiced by Jenny Astley.
George Pig - A 14 year old who thinks high school sucks. He is voiced by Jacob Hopkins.
Alex Pig - A 10 year old who has (somehow) already graduated from university.
Mummy Pig - She likes computers.
Daddy Pig - He goes to work and has a job as an architect.
Granny and Grandpa Pig - are old.
Jase Pig - She needs to be potty trained and she is 5 yrs old. Voiced by Alice May.
Selmo Pig - He also needs to be potty trained and he is 5 yrs old. Voiced by Oliver May.
Ayyiya Pig - She is Peppa and George's one month old baby sister.
Custard The Cat - She is Peppa's new friend in college.
Matthew Pig - A 22 years old who is Peppa's good older brother and moved out to RIOM, Freddytown, after marrying Annie Elephant.
Tobias Pig - Peppa's 23 year old brother who carpools frequently with his brothers Trevor and Chris. He is lazy and goofy. He married Mary Dog and also he lives in Greathills.
Chris Pig - Peppa's 20 year old friend who carpools with Tobias and Trevor. He is usually the quieter one. He married Layla Pony.
Trevor Pig - Peppa's 25 year old brother who carpools all the time with Tobias and Chris. He is often pushy or assertive. He married Jane Sheep and also he lives in Freddytown.
Robert Rohhole - Peppa's 20 year old friend who attends her university.
Prince Mason- An annoying prince that keeps insulting the users and bragging to them. He was killed at the end of the episode; when The Queen made Willdawg14 her prince (much to everyone's confusion) he yelled "Yeah, motherfuckers!" and beat Prince Mason to death, killing him.
The Queen- The Queen appears in " The Prince " to decide who should become the prince. In the end, Willdawg14 becomes the prince, after which he brutally murders Prince Mason.
Rose Reindeer - A 13 year old girl who has an interest in George. She debuted in George's Follower.
Jared Fogle- Former spokesman for Subway who now chases, stalks, and molests kids for a living. He is a recurring character on the show. He first appears in "A Funny Kind Of AIDS".
Caden Bute - A 13 year-old hacker who befriends STH223 and Mateusz11113.
Ava Ping - A good player at Pong. Attends the same school as the users do.
Logan Pong - A loser at Pong. He is younger than Ada and has a crush on MrsWhatever40.
Mr. Giraffe - The evil, racist police chief.
Users
Ozarcusmapsesae - He is the smart user and can heal people and bring them back from the dead. He first appeared in the episode "4369 pages of the PPFW " And is the first user to appear in the show
HannelSam - She loves cool stuff and is a perfect girl. In season 4, she changed her name to Missrabbitfan now she died and had a new user kwons HannelSam.
Oreo-And-Eeyore - He has no sense in his brain and likes shooting people with dart guns (until peppa goes to the swimming pool)
Mateusz11113 - He is the technological user and can fix broken computers, phones and tablets. Mummy Pig will be happy.
Willdawg14 - He is a human flower who has an Xbox One. He frequently gets into adventures alongside STH223. He first appears in "Peppa goes to the swimming pool".
Sonicthehedgehog223 - He also likes to sit in a corner playing Roblox on his computer pad thingy. Sonic is very indoorsy and lazy. He usually refuses to get off his X360, especially while playing Sonic Generations. When he does go outside, he typically spinballs trees. Unlike the rest, he first appears in The Broken Computer.
MrsWhatever40 - She likes to play with Barbie and Bratz dolls and she also has a Nintendo Switch. She is friends with all of the other users (except Sonicthehedgehog223) and Peppa. She first appears in "The Virus".
The Writer  - He's a decent writer, who can "heal" people.
BenTalkingFan128 - He can fix and make movies, and like MatthewSmarter, is very tech-savy.
Based on
The show is based on the children's novels by James Dwyer.
Original Format
16:9 - 4369 pages of the PPFW, My noisy neighbours, Angelica Pig is here?, Peppa goes to the swimming pool, Peppa's New Friend, Oreo-and-Eeyore.exe is not responding, George hates High School, A Funny Kind of AIDS, The Broken Computer, Peppa explores the PPFW, BOY!, Dinner Disaster, Ayyiya's First Step, The Prince, 24 Hours To Live, The Stolen Computer, Carthion Canyon, The Legend of MysterioX, The Trip to Brazil, The Pumper Frogs come round to eat food, TBA
4:3 - Dawn of the Users, Jase and Selmo do potty training, The Virus, Bootlegs, Chores, Chores Galore, The Camper Van, The Not-so Fun Run, The Skits, TBA
Locations
Songs
Real Songs
"All Star" by Smash Mouth (sung by Sonicthehedgehog223) - "BOY!"
"Working for The Weekend" by Loverboy - "Chores, Chores Galore"
"Be the Best You" by Joe Rogan - "Carthion Canyon (episode)"
"Captain Underpants" theme (Brass, instrumental)" by Al Yankovic - "The Pumper Frogs come round to eat food"
"Stamp on the Ground" by Italobrothers - "The Lottery"
"Finesse" by Bruno Mars - "The Oldener Days"
"The Flame" by Cheap Trick - "Daddy's Home"
"You Spin Me Right Round" by Dead or Alive (sung by Quongus, STH223, and Caden) - "Microscopic Me"
"Hold My Hand" by Hootie and the Blowfish (original and sung by Willdawg14) - "New Neighbour"
"I Want To Know What Love Is" by Foreigner - "Ferdi-Dummies"
Custom Songs
List of games
On February 18, 2018, a video game based on the series was confirmed. It will be released on February 23, 2018, the same day as the episode "The Pumper Frogs come round to eat food". Many of the characters, including the users, Prince Mason, Jared Fogle, and The Queen will appear. However, it was confirmed that the game, along with the episode, had been delayed to March 1, 2018 on February 22, 2018, one day before the episode was supposed to air. However, it was announced that the episode had been further delayed to March 9, 2018.
You have to guide one of the characters OAE after he found a Hershey's chocolate bar but can't open it. You must get help from other PA characters like Peppa and STH223.
You can either play as Peppa or Sonicthehedgehog223 and you have to try to break out of jail without the police noticing.
In this game, you play as Willdawg14, who is escaping the Pumper Frog Lair. You have to solve brain cramping puzzles. It was released on March 10, 2018.
This game is a collab of characters from other Yo-Yo original series. It will be released on September 19, 2018.
Premiere Schedule
Yo-Yo
Season One
Random days a month. Season Two
Fridays (usually) at 6pm.
Disney XD
Season One
Same as Yo-Yo.
Season Two
Saturdays at either 11:30am or 5pm.
SBeebies
Season One
Random days, at 2:30pm on channel and 8:00am on the block.
CSBC
Deaths
Deaths are similar to BFDI in terms of deaths. Some deaths are permanent (Eggbert), while others aren't.
"The Shooting" Jared Fogle, Aides ³
"BOY!" (Eggbert) ¹
"The Prince" (Prince Mason) ¹
"The Camper Van" (Bears, wolves, Jared Fogle) π (bears) ² (Jared Fogle)
"The Pumper Frogs come round to eat food" (Pumper Frogs, Mateusz11113) ¹ (PF's) and ² (Mateusz11113)
"Bad Users" (The bad users) ⁴
"Daddy's Home" (Daddy Pig, STH223, Willdawg14) ²
"The Breaking Point" (Sonicthehedgehog223, Willdawg14, Selmo, Alex, Peppa, Jared Fogle, Quongus) ²
Key
¹ means a permanent death.
² means a revived death.
³ means a possible death, recovered.
π means a minor death, unknown.
⁴ means a possible death, unknown if revived or not.
Cast
Jenny Astley as Peppa Pig
Jacob Hopkins as George Pig [Pitched up]
Colin Dean as Alex Pig [Pitch-Bent]
Alice May as Jase Pig
Oliver May as Selmo Pig
Drake Bell as Robert Rohhole [Pitched Up]
Richard Riddings as Daddy Pig
Frances White as Granny Pig
James Jamson as Sonicthehedgehog223
Willdawg14 as Willdawg14
Matthew Frackowiak as MatthewSmarter
Maria Eduard as Eduarda2384 (S1-S3)/Missrabbitfan (S4)/HannelSam (S5 - present)
Elizabeth Simmons as MrsWhatever40
Spin Off
On February 1, 2018, a spin off titled "George's Adventures" premiered on Animal Toonz. It takes six years before Peppa's adventures does.
International Releases
Peppaland
Yo-Yo - January 18, 2018 - present
Brazil
Gloob - May 23, 2018 - present
United States
Disney Channel - March 4, 2018 - present
Canada
YTV - March 12, 2018 - May 11, 2018
Teletoon - May 18, 2018 - present
United Kingdom
Disney XD - March 13, 2018 - present
Poland
Nickelodeon - January 24, 2018 - present
France
Discovery Family- January 29, 2018 - present
Russia
Disney Channel - January 26, 2018 - present
Chile
Nicktoons - February 12, 2018 - present
Kenya
Family TV Kenya - May 11, 2018 - present
Australia
Disney XD - January 20, 2018 - March 6, 2018
Disney Channel - March 7, 2018
Japan
NHK - June 6, 2018 - present
Ireland
Universal Kids - July 1, 2018
India
Cartoon Network - July 12, 2018
New Zealand
Discovery Family - July 18, 2018
South Korea
Cartoon Network - July 21, 2018
Israel
Disney XD - July 31, 2018 - present
Spain
Boomerang - August 7, 2018 - present
Thailand
Nickelodeon - August 13, 2018 - present
Mexico
Discovery Family - August 19, 2018 - present
Italy
DeA Kids - September 5, 2018 - present
Czech Republic
Nickelodeon - September 9, 2018 - present
Germany
Disney Channel - September 9, 2018 - November 9, 2018
Nickelodeon - November 9, 2018 - present
China
CCTV-14 - November 12, 2018 - present
Philippines
ABS-CBN - December 1, 2018 - present
Finland
Nickelodeon - January 3, 2018 - present
Dermark
Cartoon Network - January 9, 2018 - present
United Regions
ToonShake - September 2, 2018 - present
NickToons - July 25, 2018 - present
Comics
Announcement
There was a Pigtube video made to announce the series on September 2, 2017. This was aired on TV until January 16, 2018. It can be seen on Yo-Yo Play as of May.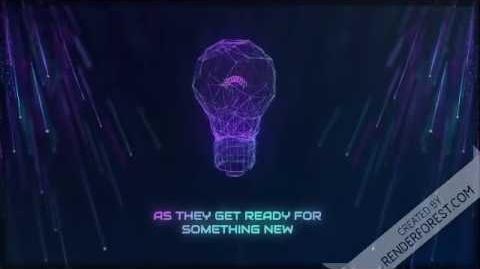 Trivia
For unknown reasons, most of Peppa's childhood friends don't appear.

According to the Yo-Yo Q&A, Suzy got hauled off to school early, Pedro moved to Mexico, and Danny got a job in Freddytown.

The show wasn't originally planned to have songs until "Jammin To Dat Beat" was written.
This show has been confirmed to have at least five seasons.
The show is produced using the animation software Adobe Animate.
This show is Yo-Yo's most successful show since Kim Possible. It was number 1 on Peppish Kids Programming for January 2018, and also the highest rated animated Sodium series.
Sallyish edits occur every episode. 
Although the show is considered kid-friendly, it has received 14+ ratings due to occasional swearing, stories that may be too overwhelming for kids, and the portrayal of various celebrities such as Jared Fogle and Logan Pong. 

However, Logan Pong isn't an intended reference, as he is a stick figure, like Caden.

Starting with "The Pumper Frogs come round to eat food", episodes air on Disney XD first.
Episodes 43-47 of season 4 use a plotline that is necessary for season 5.
Next
The Ride to Mars will premiere in...
August 31, 2018 18:00:00 ESTPlease enable javascript on your browser.