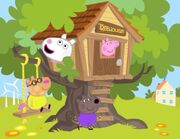 Peppa's gang's treehouse is where Peppa and her gang have meetings. Inside, it has a poster of three puddle-jumping kids, a poster of Superpig and a poster of Mr. Potato and his family. It is located in the backyard at Peppa Pig's House and was built on the same day Peppa formed a gang to rival Emily's clique. The treehouse has a sign saying 'TREEHOUSE' above the entrance.
Gallery
Ad blocker interference detected!
Wikia is a free-to-use site that makes money from advertising. We have a modified experience for viewers using ad blockers

Wikia is not accessible if you've made further modifications. Remove the custom ad blocker rule(s) and the page will load as expected.