| | |
| --- | --- |
| | This page has been rated 12 because it's Cracktastic and Retarded. |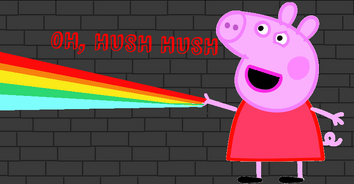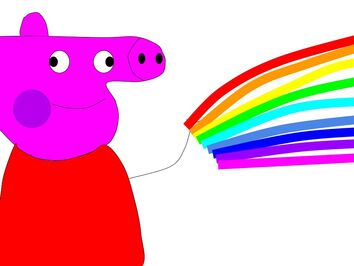 previous: Peppa goes nuts 3
next: Peppa goes nuts 5
TRAINscript!!! CHOO CHOOOOOO
Peppa: WHERE'S MY LAWYER!!! I NEED A LAWYER!!!
Police dude: You don't have one. 
Peppa: Oh my GAAAAWSH, this is so STUPID! AAAAARRGH D:<
Police dude: GURLLLL, SHUT UP!! 
Peppa: OMG! I CAN'T EVEN SHUT UP RIGHT NOW!
Police dude: I KNOW. I KNOW. ~throws her into a cell~
Peppa: WWWWWWWWAAAAAAAAAAAAAAAAAAAAAAAAAAAAAAAAAAAAAAAAAAAAAAAAAAAAAAAAAAAAAAAAAAAAAAAAAAAAAAAAAAAAAAAAAAAAAAAAAAAAAAAAAAAAAAAAAAAAAAAAAAAAAAAAAAAAAAAAAAAAAAAAAAAAAAAAAAAAAAAAAAAAAAAAAAAAAAA!
Voice: Dude, you landed on a pillow.
Peppa: Oh. i didn't realize! Then, I'm okay :D ~flies up~ I'm Peppa, but people starting calling me Crazy Peppa ever since I--....Danny Dog?
Danny: Yea. 
Peppa: Danny! What a pleasant surprise!!
Police dude: Quiet down in there!
Peppa: Oh. Sorry! c: so, what you in for? :D
Danny: I was just here to bail my sister out.
Peppa: and what was SHE in fo--
Danny: Don't. even. ask.
Meanwhile, back at Peppa's house...
Mummy Pig: today is a day for pancakes!
George: SHUT. UP.
Mummy: ..Maybe, we should try the garden.
George: NO. STOP! STOP STOP STOP!!
Daddy Pig: ~burps~
George: Fine.. If this is how it is, dine-saw! Grrrr!
Mummy and Daddy: yaaaay!
George: This is so stupid!
Back with Peppa...
Peppa: I'M BOOOOOOOORED. ~floats down and blasts tiny rainbows at the wall~
Police dude: HEY! WHAT ARE YOU DOING!? STOP IT STOP IT!! ~runs over to their cell~
Peppa: Oh hush hush! ~blasts a huge rainbow at the police dude~
Police dude: AAAHHHHHHH!!!!!!!!! MY EYYYYYESSSSS!!!! ~melts~
Danny: Wow! You can do that!?
Peppa: Do what? :D ~looks at where the police dude was~
~a rainbow puddle is there~
Peppa: Ohhhh.. I guess I can!
Danny: Now it's our chance to escape!
Peppa: More like, MY chance to escape.
Danny: What? :(
Peppa: LATER, SUCKERS! ~flies through the ceiling~
~a helicopter shows up~
Helicopter: YOU'RE GOING TO MILITARY SCHOOL!!!!
Peppa: NOPE! I'M'A FIRIN' MY LASER!!!!!!!! ~blasts a rainbow at the helicopter~ YYAAAAAAAAAAAAAYYYYYYYYYYYYYYY!!!!!!!
~helicopter melts~
Peppa: YEAH! ~flies into the sky~
George: YO PEPPA!
Peppa: Whut? ~ flies down ~
George: A few minutes ago I heard some guy shouting: "MY EYES!!"
Peppa: Oh, OK then. Yeah I made him say it.
George: :oo
To be continued...
hey guys
I'm gonna try to make this series last longer than PATAJ did XD