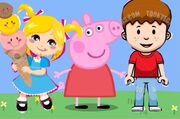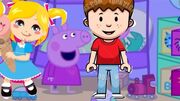 Plot
Peppa was making new friends like Betty Badger and Charlotte Chinchilla, and today was going to make new ones who were humans and came from Scotland. The scene shifts to the flight to England where Bertram was praising his mum for taking the plane. His sister Brianna gave him some toy planes she made herself. The air hostess offered her a 3 scoop ice cream which had strawberry, banana and chocolate and she opted for it, but her mum said the ice cream would have to be refrigerated every so often as it was too large to be eaten in one go. Bertram laughed, and said "At least it didn't have FOUR scoops". Then, the family landed and looked for somewhere they could stay while they made money to buy their own house, terraced house or apartment. They settled on Peppa's family home and slept in the lounge room but the children occasionally went upstairs to Peppa's room for a visit and probable sleepover. On the day the McKenzies arrived, Bertram told Mummy Pig what a fun flight it was. Then, he showed her the toy planes Brianna made for him. Peppa was interested in Bertram so they went to the kids' bedroom and played with the train set. Then, Bertram's mum told him and Brianna that they needed to sleep in the lounge room. In the lounge room, Bertram legally hung up his drawings of cityscapes, animals, aeroplanes and more which he drew using crayons he brought from Scotland. One day, Bertram and Brianna decided to play games with Peppa in the garden such as hopscotch, catch, chase and scissors paper rock. But, to their surprise, the game they played was puddle jumping. They found out what an expert Peppa is at it. Then, Peppa's friends Rebecca Rabbit, Pedro Pony, Danny Dog, Freddy Fox and Suzy Sheep turned up on their bikes and scooters. They asked Peppa what Bertram and Brianna's names were, and she replied "Bertram Bliter and Brianna Cutie". Everyone played games with them happily. Then, Brianna finished her ice cream and went to the toilet for a long time. Bertram and Brianna's mum told her kids that they now have a new house near the playground, and their non-relatives, especially Peppa, excitedly asked if they could see. And they did. To celebrate, the Rocking Gazelles did a take on I Will Walk Five Hundred Miles.
Gallery
Ad blocker interference detected!
Wikia is a free-to-use site that makes money from advertising. We have a modified experience for viewers using ad blockers

Wikia is not accessible if you've made further modifications. Remove the custom ad blocker rule(s) and the page will load as expected.