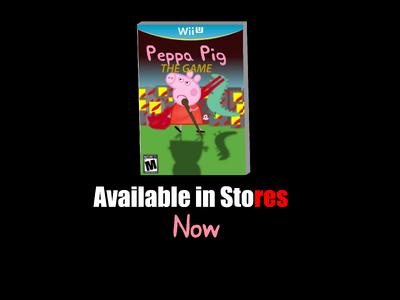 Peppa Pig: The Game is a Peppa Pig video game for the Wii U.
Story
Mr. Dinosaur has been posessed by an evil spirit, and the gang must now stop the evil spirit from ruling the world.
Gameplay
The game is a 3D platformer, made in the style of Super Mario 3D World (as Mario himself even appears in person).
The game consists of a total of five worlds, each with twenty two levels in them. Also, there are eight bonus levels, making the total length of the game 118 levels.
Characters
| Name | Description | Unlocked | HP |
| --- | --- | --- | --- |
| Peppa Pig | After the apocalypse begins, Peppa decides to stand up against the evil spirit. | 1-01 | 5 |
| | George is really fast, but with three HP being his standard amount, he can be knocked out very quickly. | 1-12 | 3 |
| Chloé Pig | Chloé is very slow, but is hard to knock out due to her heavy amount of HP. | 2-05 | 10 |
| Alex Pig | He uses his buggy to transport him, making him fast. His crying ability makes him a strong player. | 3-02 | 2 |
| Holly Fairy | Unlocked after beating her in the final stage. She can fly and use her magic wand to solve puzzles and destroy enemies. She is intended as a reward for beating the game. | 5-22 | 22 |
| | Unlocked after beating all the bonus stages. She is very fast and jumps very high. | B-8 | 5 |
| | Unlocked DLC. | DLC-1 | 9999.999.99.9 |
Ad blocker interference detected!
Wikia is a free-to-use site that makes money from advertising. We have a modified experience for viewers using ad blockers

Wikia is not accessible if you've made further modifications. Remove the custom ad blocker rule(s) and the page will load as expected.