Peppa and George are climbing up a ladder which seemed to be leading to nowhere.
George: Peppa...when are we going to be there *oink*
Peppa: Were nearly there George.
Peppa and George finally make it to the top, there was a sign called which said 'Mr. Popo's Lookout' and they saw a 'man' watering some flowers. Peppa goes over and knocks over the flowers. Mr. Popo stared.
Mr. Popo: Clean that up, Maggot. 
Peppa: and what if I don't? *oink. You clean it up
Mr. Popo: BITCH, DON'T TELL ME WHAT TO DO. 
Mr. Popo calmed down.
Mr. Popo: Prepare to be assimlated.
Peppa: What's that?
Then, a black smoke-like thing appeared around Peppa.
Peppa: AHHHHHH.
Peppa faded away from exsitense.
Mr. Popo: Should've listened to me, maggot.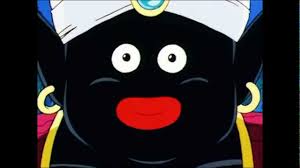 Ad blocker interference detected!
Wikia is a free-to-use site that makes money from advertising. We have a modified experience for viewers using ad blockers

Wikia is not accessible if you've made further modifications. Remove the custom ad blocker rule(s) and the page will load as expected.