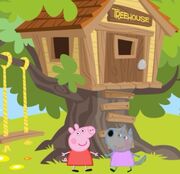 Transcript
Peppa: Hey, Wendy!
Wendy: Hey, Peppa!
Peppa: How come you're not around much these days?
Wendy: Because me and the Wolf family are too busy rowing people to the other side of the river with our boat. We rowed your family across once.
Peppa: Oh, yes!
Wendy: Anyway, never mind that. Remember the time me and some other kids wanted to join your gang before you formed it?
Peppa: Yes. I remember.
Pedro: Peppa, can you please let Wendy join us for the day?
Peppa: Okay, but just this once.
Wendy: Wow! You've got a great little treehouse up there. Is that where you guys meet?
Peppa: Yes, it is. Come on up.
[She and Wendy go into the treehouse]
Peppa: It took quite a while to build this thing, but not over an hour. And to make it look cool, I added posters.
Wendy: I see. It's fantastic! What do you guys do in your gang?
Peppa: You'll see when we have our next meeting. Suzy! Danny! Pedro! It's meeting time!
[Suzy, Danny and Pedro come into the treehouse and they talk about ways to defeat Emily Elephant]
Wendy: I see. Now I understand.
Mummy Wolf: Wendy! Time to go home!
Wendy: Okay, Mum! Bye, Peppa! Bye, Suzy! Bye, Danny! Bye, Pedro! *leaves*
Ad blocker interference detected!
Wikia is a free-to-use site that makes money from advertising. We have a modified experience for viewers using ad blockers

Wikia is not accessible if you've made further modifications. Remove the custom ad blocker rule(s) and the page will load as expected.